Nobel Prize Winner Dr. John Mather to Describe Work on Webb Space Telescope
By Nancy DeSanti, 1st Vice President-Programs
---

AMHS is pleased to start our new year of programs for 2023 with a talk by Nobel Laureate Dr. John C. Mather on January 29, 2023, at Casa Italiana. Dr. Mather will tell us about his exciting work on the James Webb Space Telescope, the largest optical telescope in outer space.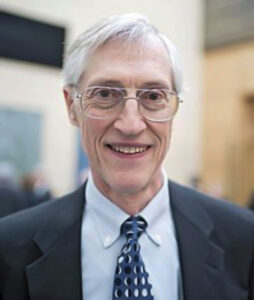 The program is co-sponsored by the Casa Italiana Sociocultural Center and the Casa Italiana Language School. The talk was facilitated by AMHS member Joe Novello, who was formerly a colleague of Dr. Mather at the National Aeronautics and Space Administration (NASA). Before his talk, a delicious lunch will be catered by Fontina Grille.
Dr. Mather is a senior astrophysicist at the NASA Goddard Space Flight Center in Maryland and adjunct professor of physics at the University of Maryland College of Computer, Mathematical, and Natural Sciences. In 2007, Time magazine listed Dr. Mather among the "100 Most Influential People in the World."
Dr. Mather is an American astrophysicist, cosmologist and winner of the Nobel Prize in Physics in 2006 for his work on the Cosmic Background Explorer Satellite (COBE) with George Smoot. That work helped cement the Big Bang theory of the Universe. Dr. Mather is also the senior project scientist for the James Webb Space Telescope, a space telescope launched on December 25, 2021.
AMHS members may recall that Dr. Mather gave us a talk in March 2014 and described what it was like to receive the phone call that changed his life and then to be awarded the Nobel Prize at a ceremony in Sweden attended by the Swedish King.
During that talk, Dr. Mather told us that Italy is one of his favorite places to visit, and he noted that there is a town in Italy that sends flowers to the Nobel Prize ceremony every year (the Ligurian town of San Remo, where Alfred Nobel spent the last five years of his life.) When he was eight years old, he said he received a biography of Galileo from his parents, and from that time on, Galileo became one of his heroes.
During his upcoming talk on January 29, Dr. Mather will tell us about his work on the James Webb Space Telescope, for which NASA led the design and development and partnered with two main agencies — the European Space Agency (of which Italy is a member) and the Canadian Space Agency.
Recently, the James Webb Space Telescope captured a unique perspective of the Universe, including never-before-seen galaxies described as glittering like diamonds in the cosmos. One research astronomer commented, "the stunning image quality of Webb is truly out of this world." We look forward to hearing about Dr. Mather's work on this exciting project.