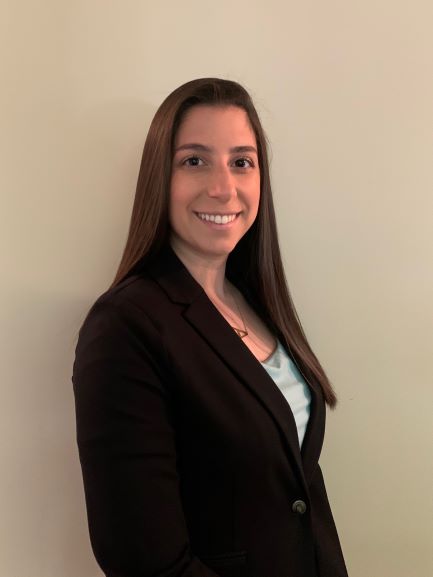 Alexa Conti
Dear Abruzzo and Molise Heritage Society,
I am sincerely honored to have been selected as a recipient of the 2020 Abruzzo and Molise Heritage Society scholarship in the amount of $4000. Thanks to this generous contribution, I am able to continue my studies at the College of William & Mary as well as the Umbra Institute in Perugia, Italy, where I anticipate studying abroad this fall. This scholarship not only supports my academic pursuits, but enhances my ever-growing appreciation of Italian culture, language, and history.
I will be entering my senior year at William & Mary in earnest, and ultimately, concluding with Bachelor of Arts degrees in International Relations and Italian Studies. Due to the small Italian language department at my university (and consequently an absence of an Italian Studies major), I have dedicated the second half of my college career self-designing an Italian major with a concentration on the Italian American experience. With this scholarship, I will be able to take classes and conduct research in Perugia that will help me achieve my academic goals. There, it is my hope to refine my language skills, understand self and others through food, and learn about intercultural communication.
I have always boasted my Italian heritage, as I am a second-generation Italian American; the paternal side of my family hails from the Province of Teramo in Abruzzo while my maternal side resides in Sicily. I have had multiple opportunities to travel to Italy and had such great experiences. I enjoy sharing these fond memories with others that will remain with me forever. In this way, I like to see myself as a sort of an ambassador preserving the Italian heritage in modern society, especially through this unprecedented time.
As I look towards the future, I do not anticipate dulling the shine of my Italian pride in my professional career path. Traveling, interacting with other people, and helping to improve the world are some things I hope to achieve as I strive to become a Foreign Service Officer. It is with the encouragement from great cultural organizations such as the Abruzzo and Molise Heritage Society that I am confident in succeeding as a young Italian American professional.
It is an absolute honor to be recognized by the Abruzzo and Molise Heritage Society, and I look forward to my future endeavors with the organization and all that the Italian culture has to offer.
Grazie mille e buona salute,
Alexa Conti
See Alexa's video thanking the Society for the scholarship.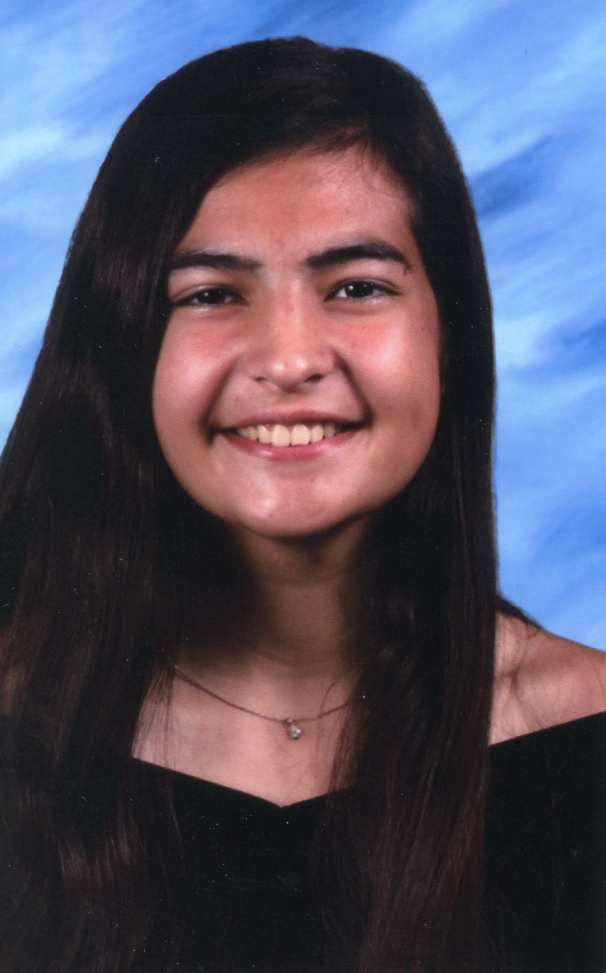 Abigail Cuviello

Dear members of The Abruzzo Molise Heritage Society:
My name is Abigail Cuviello and I am one of the recipients of the AMHS scholarship for the 2020-2021 academic year. I am sincerely honored to have been awarded this scholarship based on my academic achievements throughout my high school experience as well as my dedication to learning the Italian language. I would like to thank the AMHS community for helping to support my future endeavors in higher education.
Throughout my time in high school, I took Italian language courses as well as a class trip to Italy, in which I visited my Italian relatives who live in Vasto, Abruzzo. These relatives are distant cousins who my grandfather and I found while researching our heritage and ancestry and they have become very close to us. My journey in discovering my Italian heritage and meeting my cousins is what pushed me to apply for this scholarship and join the Abruzzo Molise Heritage Society, as I am eager to learn more.
This fall I will be attending the University of Vermont as a freshman and will be majoring in animal science with a pre-veterinary concentration. I also hope to continue to take Italian courses throughout my time at the University in order to improve my speaking abilities and continue to stay connected with my Italian relatives.
By awarding me this scholarship, AMHS will help me to buy textbooks as well as other necessary materials, which I will need to be successful throughout college. I greatly appreciate this help and I am grateful to have your support.
Grazie,
Abigail Cuviello
See Abigail's video thanking the Society for the scholarship.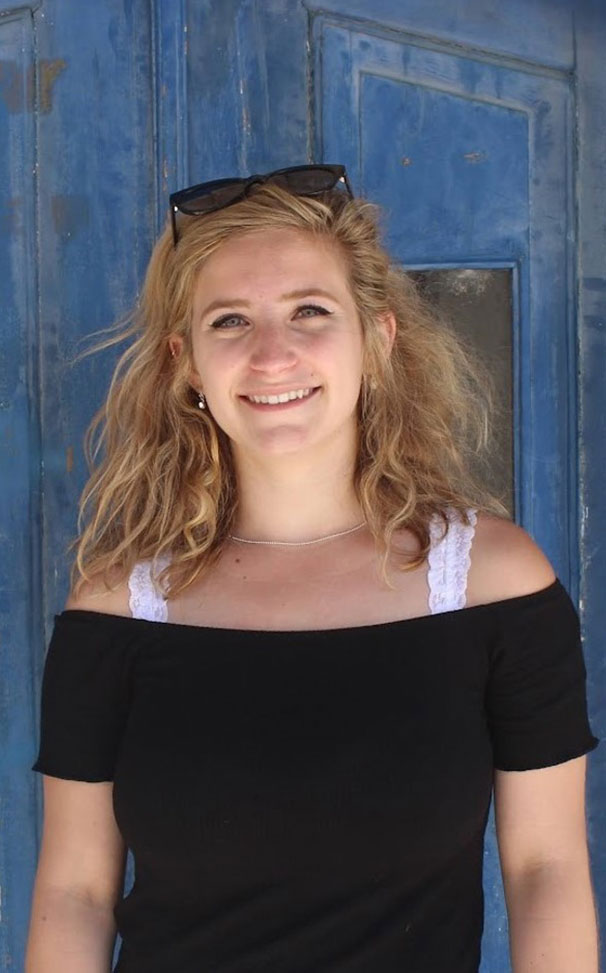 Julia Paola
Dear Abruzzo Molise Heritage Society,
I am writing to thank you for selecting me as a recipient of the 2019 NIAF Abruzzo Molise Heritage Society Matching Scholarship. I am truly appreciative of your generosity and I am honored to have been chosen from a diverse pool of applicants. Your contribution will help me further my education by lessening my financial burden and allowing me to focus on more important things such as pursuing my degrees and building my personal identity.
I am currently majoring in International Affairs and Political Science with minors in both Italian Literature and Language and History. I aspire to work for the US Department of State and have a career that allows me to expand my interest in travel. No matter what position I achieve, I hope to continue to learn while serving others in the community around me, just as you have helped me.
From a young age, I have been enamored with my Italian-American heritage and how it impacts my personal identity. I have a deep appreciation for my family and those who immigrated before them, and now have great hopes for my achievements just as they did.
Once again, thank you for helping me pursue my educational goals through your generous scholarship.  Throughout my years in college, I hope to take steps to maintain my cultural roots and serve as a student liaison of Italian heritage. Your gift has inspired me to serve my community and hopefully give back one day, just as you all have done for me. Thank you for enabling me to follow my 'American Dream.'
Grazie mille,
Julia Paola
The George Washington University
Elliott School of International Affairs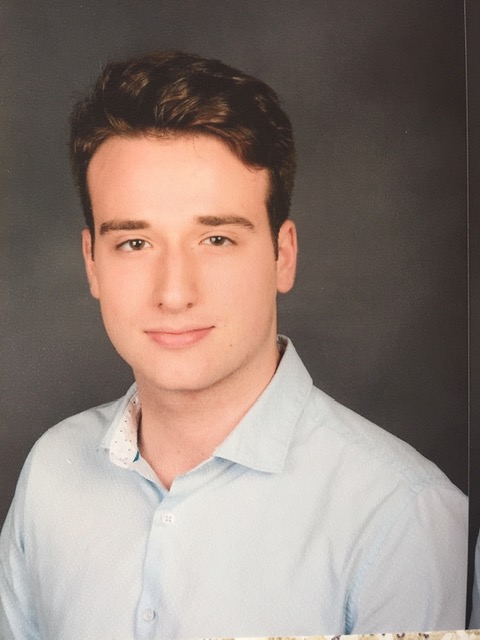 Thomas Ronan
Dear Abruzzo Molise Heritage Society:
I cannot begin to express my gratitude to your foundation for its incredibly generous gift of $4,000 for my studies. I will use these funds to honor Italy to the best of my ability in the Heritage Society's very own Washington, D.C. beginning this fall as an Italian major at Georgetown University.
Growing up, I spent my summers in Bergamo, Italy, with my mother's family. The city's historic center, Citta Alta, a medieval citadel built on Roman ruins and surrounded by sixteenth-century Venetian walls, was the backdrop of much of my childhood fun. Perhaps it was inevitable that as I got older, I would be drawn powerfully to the history and culture of Rome and medieval and Renaissance Italy.
As a freshman in high school, I wrote my National History Day paper on Caesar's Gallic Wars and I was fortunate enough to qualify for the national competition in D.C. The experience inspired me to study Latin and Roman topography in Rome itself at Saint Stephen's School Summer Program. During my sophomore year, I read a translation of Dante's Divine Comedy in my free time. The wildly imaginative epic led me to the Calder Classics program the following summer in its author's hometown of Florence, where I studied medieval and Renaissance Italian art and read original Roman texts in Latin. In my junior year, I read Boccaccio and Petrarch independently, and the next summer, I shadowed at the Accademia Carrara art museum in Bergamo, where I was quite literally surrounded by medieval and Renaissance paintings. I also volunteered at Bergamo's Caritas, where I served meals to and made friendships with some of the city's unemployed residents, most of whom were new Italians-migrants from Africa and the Middle East.
I will emphasize late medieval and Renaissance Italian history, art, and literature in my studies at Georgetown and work to improve my Italian writing. I hope to use my knowledge of Italian and Italy in a career of international law or foreign service. The Abruzzo Molise Heritage Society will not only help me in advancing in my studies, but it will also allow me to form a more pan-Italian view of my heritage. Your society's remarkable gift to me, a student whose family hails neither from Abruzzo nor Molise, truly reflects its noble goal-"to foster the cultural heritage of these two regions and Italy." Your example of trans-regional generosity inspires me to learn more about Italian regions unknown to me and to celebrate our common Italian identity rather than regional loyalties.
I cannot thank you enough.
Cordially,
Thomas Ronan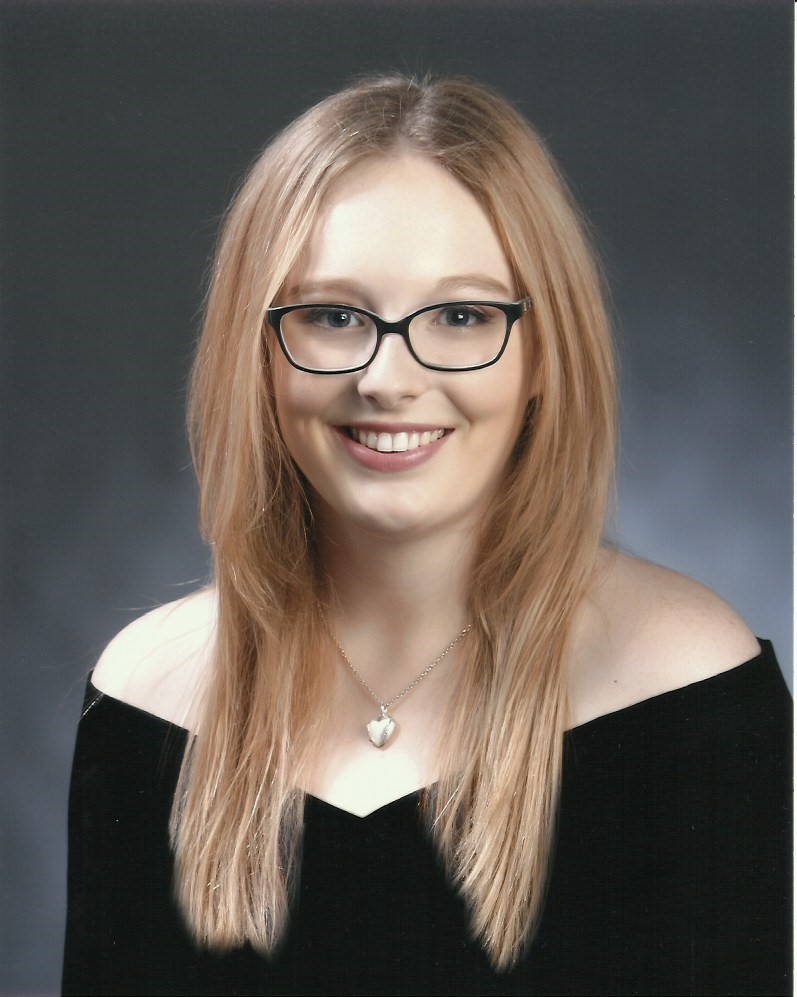 Kathryn Donati

Caro Abruzzo Molise Heritage Society,
I am writing to express my gratitude for the generous scholarship awarded to me by your society. My Italian-American heritage is extremely important to my sense of identity and has recently become a vital part of my academic pursuits. As such, your support of my studies through this scholarship is deeply appreciated. Your incredibly generous scholarship will be used this upcoming spring of 2019 as I spend the semester studying abroad in Perugia, hoping to further my studies of Italian language, history, and literature.
When I entered university at the College of William & Mary, I knew that I wanted to study English literature. By far my favorite subject throughout my years at school, I was prepared to declare an English major. What I did not anticipate was how interested and invested I would become in the Italian Studies department of the College. Learning to read, write, and speak Italian was the first of many stepping stones to fully embracing this part of my culture that I had never previously appreciated in such a manner. Now, I am double majoring in both the English and Italian Studies departments and my education would feel incomplete without my Italian courses.
I grew up aware of my Italian heritage but did not consider it a major part of my identity until recently. Living overseas during my time in high school, simply identifying myself as American did not feel wholly true to who I am. I added the Italian part to my identifier and have not looked back since. As a proud Italian-American, I spent the better part of my recent spring break extensively researching our family tree. The Italian roots of my family are a patemal lineage that can be traced back at least six generations to my great-great-great-great grandfather Benamato Donati. My family has its origins in the Trentino-Alto Adige region of northern Italy and though I've explored Venezia, Firenze, and Roma, I cannot wait to return to Italy and explore this region of my ancestors.
The opportunity to study Italian culture, language, and history in an academic context with such a deeply personal connection has added so much value to my education that I could not imagine my time as an undergraduate complete without it. As I look to the future and the possibility of pursuing a law degree with an international focus or joining the foreign service and working for the State Department, my Italian studies and heritage factor heavily into these decisions. It is with the support of organizations such as the NIAF and the Abruzzo Molise Heritage Society that I look forward to the future of-being an Italian-American professional giving back to our community.
Grazie mille to the board and all the members of the Abruzzo Molise Heritage Society,
Kathryn Donati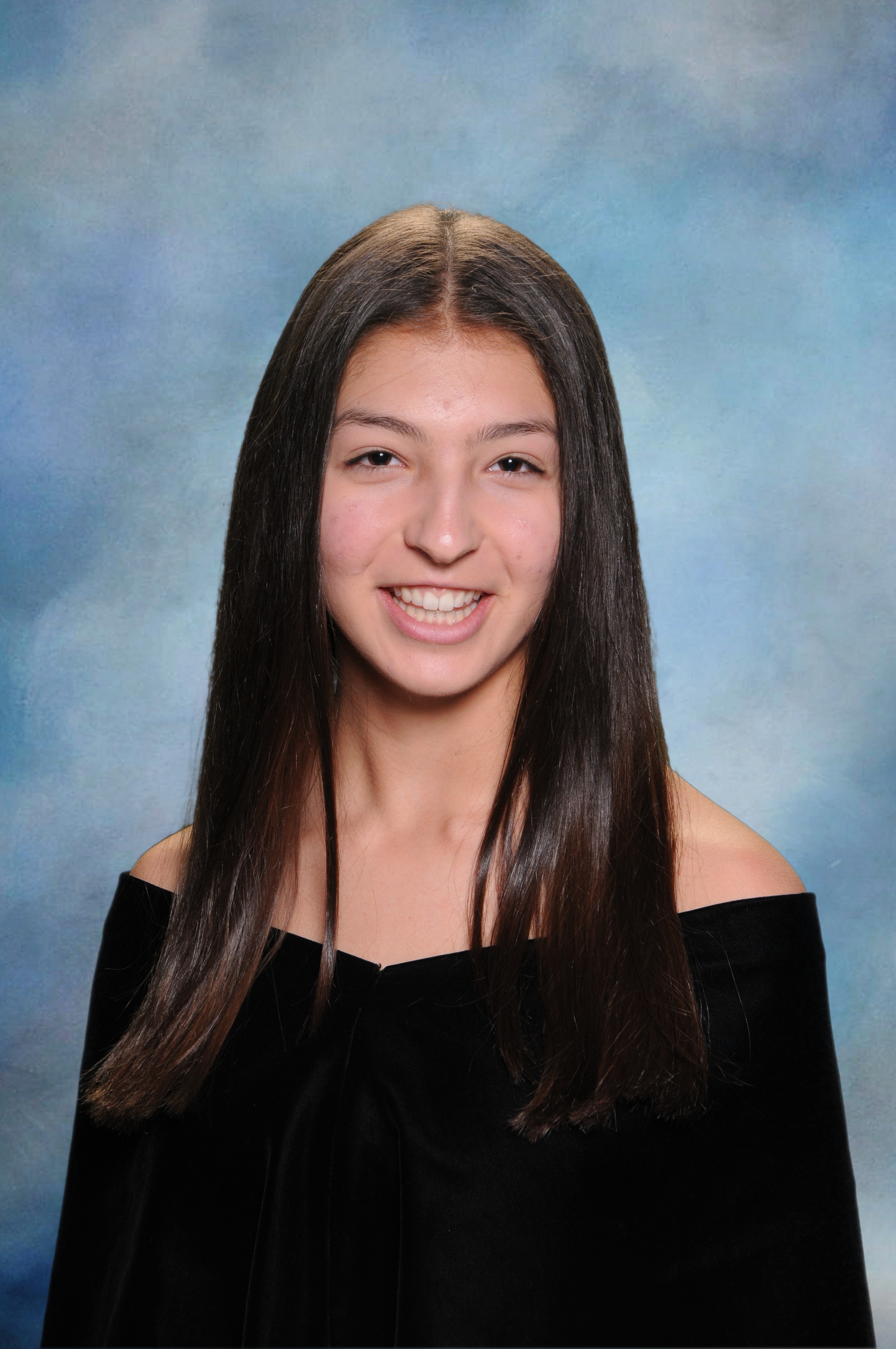 Francesca Minicozzi
Dear Abruzzo Molise Heritage Society,
I want to express my sincere gratitude and appreciation for your generous $4,000 contribution to the National Italian American Foundation (NIAF) Scholarship for undergraduate school. I was truly honored to learn that I was chosen as the recipient of the 2018 NIAF Abruzzo Molise Heritage Society Scholarship. Most people who know me recognize how much I love the Italian culture and language, and it gives me great joy to receive this scholarship. As a NIAF recipient, I know I am making my Italian family proud, but most importantly my Nonna. She came from Sicily all by herself to America in search of a better life. Now many years later, my hard work and dedication has led me to receiving this scholarship in her honor. I know she would have been very proud of the woman I have become.
I sincerely thank you for your generosity as the past few years have been difficult for my mother and me. In May 2016, my father passed away from Stage 4 Lung Cancer and my mother and I were heartbroken. It has been difficult for us to get by, but we are doing our best. This scholarship greatly helps us with the financial burden of college tuition.
I will begin my sophomore year at Loyola University Maryland in the fall with a major in Biology following a pre-med track, along with a minor in Italian Studies. By awarding me the 2018 NIAF Abruzzo Molise Heritage Society Scholarship, you have greatly lightened my financial burden which allows me to focus more on the important aspect of school, learning. With this scholarship, I am a step closer toward my dream of becoming a pediatrician.
Thank you again for your generosity and support. Your kindness has inspired me to help others and give back to the community. I hope one day I will be able to help students achieve their goals just as you have helped me achieve mine.
Sincerely,
Francesca Minicozzi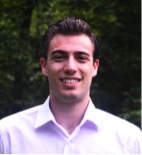 Benjamin Abeles

Benjamin Abeles is a junior at Cornell University, where he is double majoring in Italian and Government. His Italian background is on his father's side and traces to the region of Puglia. Mr. Abeles has a strong interest in political science and Italian language, literature, and culture. He has his sights set on a career in the Foreign Service.
Dear Abruzzo and Molise Heritage Society,
I am writing to thank you for your generous contribution to my studies at Cornell University. Through my education, I have become a beaming Italian-American, and I would like to express my utmost gratitude not just for your support of my studies, but your commitment to the promotion of Italian culture and values in the United States.
When I first stepped foot in Viterbo as a senior in high school, I strove to rediscover my Italian heritage. Little did I realize the impact that an academic year in a small, Lazio town could have on my future. Ever so slowly, I learned to speak Italian, and many of the beautiful intricacies of the Viterbese dialect. Eventually, I was able to read an entire novel by Italo Calvino. When it was time to return to the United States, I had not only developed a firm grasp of Italian language and culture, but an abiding relationship with my host family and Viterbo.
Four years later, my relationship with Italy, its culture, and language is more profound thatn I could have imagined when I arrived as an 18 year old. Last summer, as an intern at the American Consulate General in Milan, I witnessed firsthand the special diplomatic relationship between the United States and Italy. Now, as I enter my senior year at Cornell, I prepare to write my honors thesis in Italian Studies.
I am honored to be recognized by the Abruzzo and Molise Heritage Society and the NIAF, and I look forward to a relationship of promoting Italian culture alongside your organizations.
Cordiali saluti,
Ben Abeles

Gianluca Nigro

Gianluca Nigro is a sophomore at George Washington University. He is a Political Science major, with minors in Italian and History. His Italian roots run through Campania on his father's side, while Molise is the region of his mother's background. Mr. Nigro's interests include politics, Government affairs, and Italian culture and language. His future aspirations look toward a career in public service.
Dear Abruzzo Molise Heritage Society,
I want to convey my sincerest gratitude for the extremely generous scholarship which you so kindly awarded me. I was hopeful during the application process that my passion to express my Italian roots would be recognized, and that my endeavor to make my family and other Italian­ Americans proud would come to fruition. Having been born in Italy to an Italian-born father, Italian mother, and four Italian-born grandparents has driven me to embrace my heritage in my daily routine, my studies, and my aspirations.
For my grandfather Peppino Sceppa of Campobasso, who is no longer with us and cannot celebrate this achievement with me, this award is extremely special. Just thinking about how proud he would be if he were here today instils in me the drive to continue to make my family and my two countries proud. It is for him, my parents, my sister, and all of my relatives and Italians and Americans that I work so hard for.
To be able to say that I am a NIAF scholarship recipient not only makes me proud to be an Italian American, but it also goes an extremely long way in aiding the struggle of high tuition costs associated with college today. In a couple years' time, I will have graduated with an Italian Language and Literature minor from The George Washington University, an accolade which I would feel unfulfilled without.
For me, the opportunity to say that I graduated with a focus in Italian language and in Italian literature is important for a couple of reasons. Not only will these four years of concentration in Italian language and literature be remembered by me for the way that they expanded my knowledge of Italy, but also for the fact that I will be able to proudly look back on my college years and say that I devoted a large portion of my studies to the language and literature of a nation which is the very fabric of my being.
While not entirely fluent in the Italian language yet, this very generous scholarship will go a long way in helping me continue learning from some of the best Italian professors in the country. For this, I thank you, as my lack of fluency in the Italian language is the only barrier that stands between my culture and me. I cannot express enough how proud I am to know that I am receiving help from a society with the same roots as mine; for my whole life, I have always known that Italians stick together, and this scholarship is another example of that.
One day, I hope to give back not only to the Abruzzo Molise Heritage Society and to NIAF, but to Italians worldwide. My combined studies in political science, Italian, and history will allow me to excel throughout my career path and one day return the favor to those Italians who have gone to great lengths for me. The political atmosphere today may be tense, but I know that someday, my studies, roots, and cultural tendencies will succeed as the instrumental drivers needed to supply me with the skills to surpass rhetoric and hate and to find a way to do good for the world and for Italians.
With that, I want to extend that if there is absolutely anything I can do to contribute or to help your society, I would be honored to give all that I can. I am honored for this and I am humbled; you have helped me make my loved ones proud. I thank you emphatically.
Sincerely,
Gianluca Nigro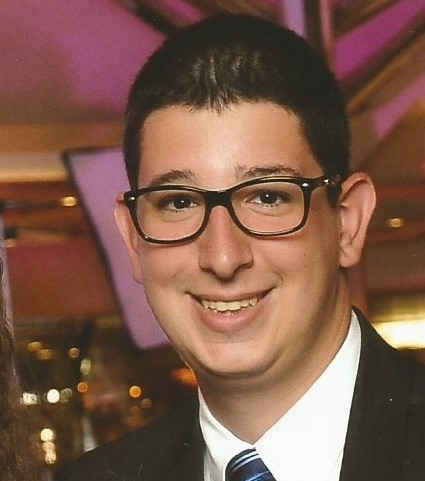 Salvatore Pitino

Salvatore Pitino is a sophomore at George Mason University, where he studies Economics (his major) and Italian Studies (his minor). His interests include economics, business, and aviation. Both his parents and grandparents were born in Sicily.
Dear Abruzzo Molise Heritage Society,
My name is Salvatore Pitino and I am a rising sophomore at George Mason University. I would like to thank you so much for considering and accepting me as a candidate for the 2016 NIAF Abruzzo Molise Heritage Matching Scholarship. This scholarship will help foster my growth as a student and as an individual, contributing to my success in the future.
I was born in Queens, New York and raised in a Sicilian family with moderate means.
After my mother, I am the second person in my immediate family to attend college. Attending higher education allows me to open doors that my father and my grandparents were never able to open because of monetary restrictions. While the heavy burden of receiving an education still exists, with this scholarship I am able to lessen the load, which allows me to focus more on my future rather than worry about my finances.
When I first applied to Mason, I wanted to be a business major and enter the business world upon graduation. However, after taking my first micro-economic class, I gained an economic perspective of the business world. As a result, I became an Economics major. With this major, I intend on working my way up to an executive position in the travel industry. After completing my undergraduate degree at Mason, I want to get my master's in Business Administration (MBA).
Along with my love of economics, Mason helped me realize my love for my heritage. In spring of 2015, I declared a minor in Italian studies after falling in love with my Italian classes. Today, I continue to take classes towards my Italian Studies minor, learning about Italy through famous works of literature such as Dante's Inferno and through Cinema. In fall of 2016, I will be studying issues such as Immigration, which is widely affecting Italian society today. Both my coursework and professors helped me realize that it is important to not only be successful, but have strong ties to one's heritage and culture.
Together, my minor and major have helped me realize that college is a place of growth and preparation for the world post-graduation. With your generous scholarship, I will be able to continue my education at Mason and focus on discovering my interests, as well as developing myself so that I will be prepared for the future. With this in mind, words cannot express how honored and blessed I feel to be selected for the 2016 NIAF Abruzzo Molise Heritage Matching Scholarship. Grazie mille!
Sincerely,
Salvatore E. Pitino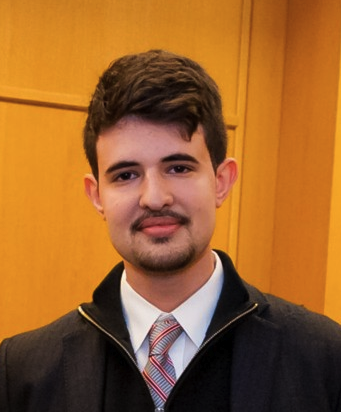 Nicholas Rao
Nicholas Rao is a sophomore at the Catholic University of America, School of Arts and Sciences, where he is pursuing a double major in Philosophy and Italian Studies. He maintains an interest in Philosophy, language, music and drama. His Italian lineage runs through his father's side of the family, which has roots in Sicily, Campania, and Basilicata.
To the Abruzzo Molise Heritage Society,
I am writing to express my sincere gratitude for your contribution of $4000 to my education at The Catholic University of America, where I pursue a double B.A. in Philosophy and Italian Studies. My recent discovery of the National Italian American Foundation has been a great blessing, bringing new and invaluable contacts as well as new avenues for the expression and honoring of my Italian heritage.
My relationship to Italy is more than historical or genetic. Every summer, for 21 years, I have had the privilege of traveling to Italy, where I have formed a deeply personal appreciation for Italian culture and life, as well as an understanding of those traits that define the Italian character. A conscious and educated lover of all things Italian, I accept your gift with a certain sense of responsibility, both to myself and to the Italian-American population. This responsibility includes the proud and faithful representation in American society of Italian values, accomplishments and concerns; the permanent recollection of our part and unique place in American history; and, finally, the advocacy of all things Italian that are of special import to me – notably, the Italian emphasis on family and communal virtues, the Italian Catholic legacy, and Italian art (especially music).
It is truly an honor for me to accept this gift and responsibility within the NIAF community and Abruzzo Molise Heritage Society. I look forward to future correspondence and pledge my hard work in the upcoming academic year.
Sincerely,
Nicholas Rao
Christina Iovino
Christina is in her junior year at the University of Virginia where she is double majoring in Italian and Foreign Affairs. She is the daughter of Peter and Charlyn Iovino.  Peter and his daughter, Christina, recently became members of our Society.
Dear Abruzzo and Molise Heritage Society, 
I am beyond grateful to be the recipient of your generous scholarship for the 2015-2016 academic year. This $4000 scholarship will benefit my academic success and help me achieve my goals for the upcoming year.  Your support means the world to me and I am so blessed to have such a wonderful group of Italians behind me!
As I enter my third year at the University of Virginia, I am preparing to study abroad for the fall semester in Siena, Italy. I am doing a homestay in order to immerse myself with the Italian language and culture.  The opportunity to study in Italy is a dream come true and I feel so lucky to be able to have this chance during my undergraduate career.  This past academic year, I declared my double majors: Italian and Foreign Affairs. I cherish the Italian language, as it helps me connect with my heritage on my paternal side of the family.  I am so excited to spend four months immersing myself in my original roots.
My connection to the Abruzzo and Molise regions is strong, as my great-grandfather was born in the L'Aquila province of the Abruzzo region before coming to the United States.  I like to think that I am carrying on his legacy by working hard to reach my goals and having the opportunity to study abroad in Italy.
Again, thank you for encouraging me to pursue my dreams and being a constant support system for me.  I appreciate all that you do, and you all will forever have my sincerest thanks.
Sincerely,
Christina Iovino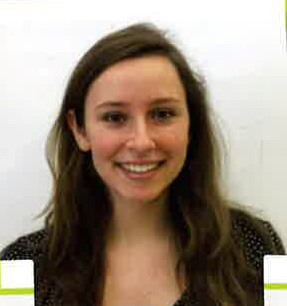 Maria LaVerghetta
At the time of her selection, Maria was in her senior year at the University of Maryland where she studied Italian language and history.  She has graduated since then and now is in Italy pursuing a master's degree in foreign language education at the University of Perugia.  Maria is the daughter of Raymond and Michele LaVerghetta, both of whom are members of our Society.
To the NIAF [and the] Abruzzo [and] Molise Heritage Society:
I want to thank you all for your generous contribution to my studies for the upcoming 2015-2016 academic year.
As I prepare for the start of my studies in Italian language and education, it is not an exaggeration to say that I would not be heading for the University of Perugia in Italy for those studies were it not for the generous scholarship of the NIAF[and the]Abruzzo [and] Molise Heritage Society.  The additional expenses incurred through international travel, living abroad and studying at Italy's best-known university for teaching aspiring teachers of Italian would almost certainly have put my goals out of reach. 
Our country's growing interest in Italian language and culture, and the Italian Governments' increasing interest in promoting them, will bear fruit and have impact only if there is a larger number of qualified teachers to meet the demand.  The enlightened sponsorship of the NIAF Foundation and the Abruzzo [and] Molise Heritage Society are playing a key role in advancing our country's deeper familiarity with the Italian language and the culture surrounding it.
My Italian language education studies represent another step in a journey that began with my visit as a little girl to Vasto, a small town in Abruzzo nestled on the Adriatic coast.  My parents first took me there when I was seven and it was exciting to see the town from which my great grandparents had emigrated.  I was lucky enough to return to Vasto by myself at the age of eleven.  I knew only a handful of Italian phrases, but I learned quite a few more.  The joys and occasional frustration of trying to communicate inspired me to take Italian language courses formally at the first available opportunity.  I maximized that opportunity at the University of Maryland, where I double majored in Italian and History.  Subsequent visits to Vasto made it clear that my knowledge of Italian and understanding of Italian culture were growing.  Thoughts of sharing my knowledge and passion began to cross my mind.
However, it was during my junior year semester in Rome that I realized that I wanted to share my passion of Italian by teaching it.  Oddly enough, it happened while I was tutoring
English on a volunteer basis at a local Roman high school.  Of all my "teaching" moments, my experiences in those foreign language classrooms excited me the most.  I knew then that I had to find a way to perfect my Italian language skills and to learn as much as I could about the best teaching practices and educational methodologies.  I will start down that road at the University of Perugia and continue on with my ultimate goal at the University of Maryland's Graduate School of Education.
Goals and dreams are important. But it takes support and resources to make those dreams a reality. For me, the NIAF, the Abruzzo [and] Molise Heritage Society and their corporate sponsors have worked together to make it possible for me to be the best Italian language instructor that I can be.