The traditional cuisine of these regions has been shaped by the natural settings of mountains and sea. A specialty of this mountainous region -the home of shepherds- is naturally lamb, prepared in a variety of ways- roasted, fried or cooked alla cacciatora (the hunter's way) with red peppers. Pecorino made from sheep's milk is the most common cheese. And the best durum wheat pasta in Italy comes from the Campobasso region, once known as the "Granary of the Kingdom of Naples". Fish is also prominent in the traditional cuisine, as some of the best fishermen of Italy live along the region's Adriatic Coast. Appropriately, St. Francis Caracciolo – recently proclaimed the Saint protector of Cooks – is from Villa Santa Maria (Chieti), a town that since the 1500's continues to produce world-renowned Chefs. And the Panarda, an all-day gigantic meal the origins of which go back to pagan times, is still an occasion of celebration in Abruzzo.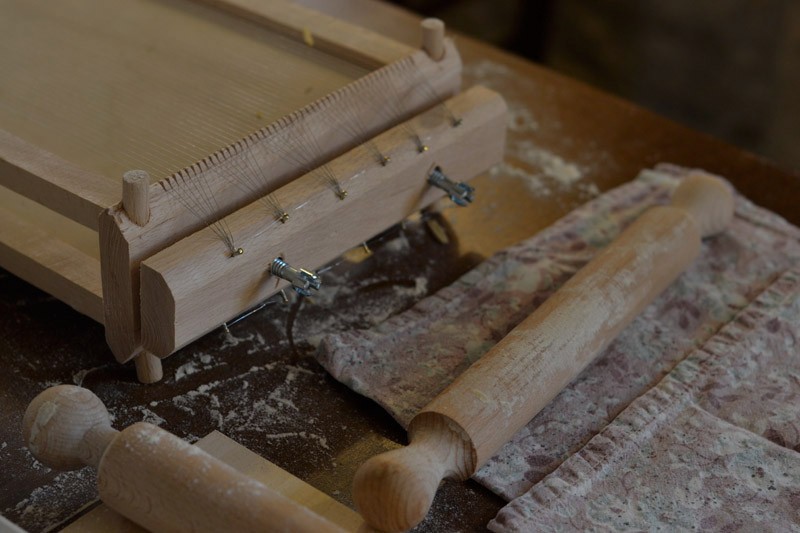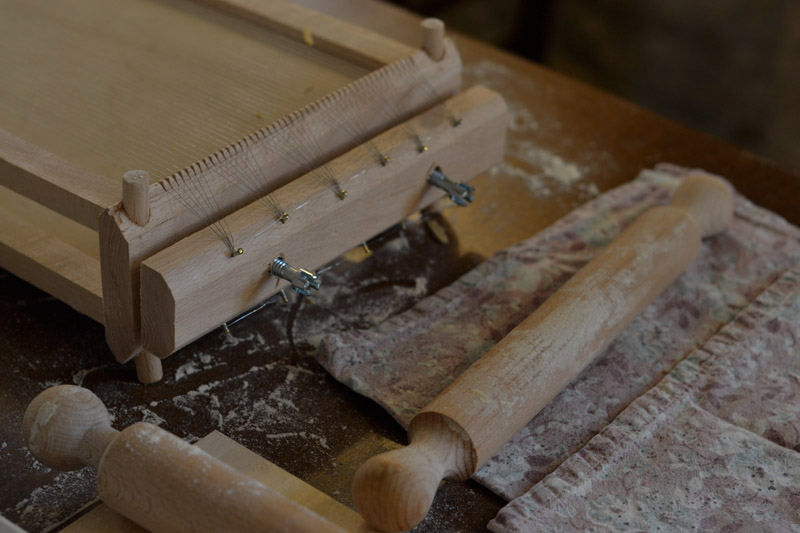 Pasta & Primi
The most famous dish of Abruzzo and also of Molise is maccheroni alla chitarra, made with the help of an implement known as chitarra (guitar). This piece of equipment is made up of a wooden frame strung with parallel steel wires; a rolling pin pushes the sheet of pasta dough–made of durum wheat and eggs– through the strings which cut the dough in the characteristic shape of spaghetti. This pasta dish is served with a tomato sauce variously flavored with peppers, pork, goose, or lamb meats, and complemented by regional side dishes such as sagne e fagioli , a bean and noodle soup flavored with a thin sauce made from fresh tomatoes, garlic, oil, and hot peperoncino (chili peppers).

Among the local dishes are the gnocchi carrati from L'Aquila, flavored with bacon, eggs, and pecorino cheese. From Teramano, a town famous for its cuisine, come scrippelle, crepes made from a rustic French recipe, served mbusse (in a kind of soup) or used to form a sumptuous souffle dish, served with a little ragu', and stuffed with chicken liver, meat-balls, hard-boiled eggs and fresh ewe's-milk cheese. The crown of the table is ravioli stuffed with sugar and cinnamon, served with a thick pork ragu'; the pastuccia a stew of polenta with sausage, egg and grated ewe's-milk cheese; and pappicci, thin noodles in a tomato sauce.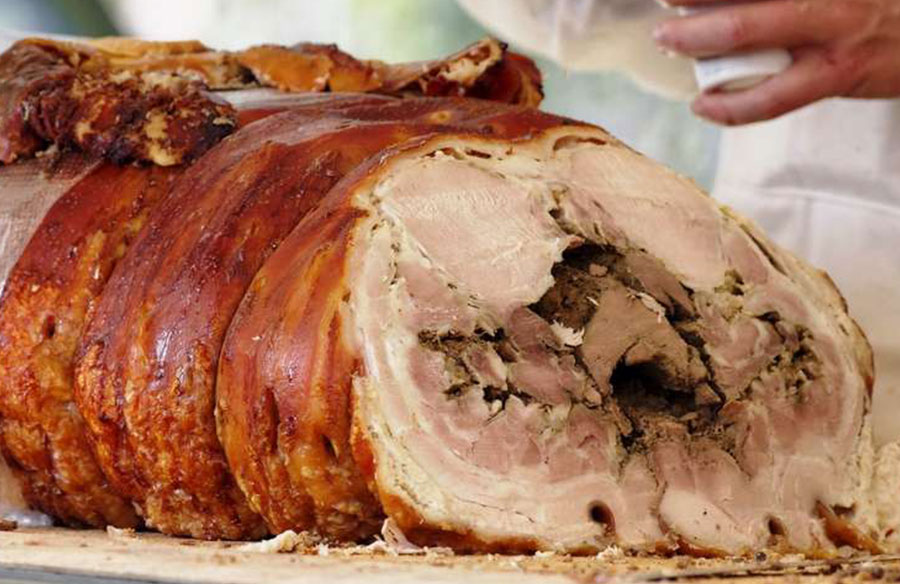 Secondo
Main courses consist principally of meat (inland) or fish (on the coast). Roast lamb a tasty rustic dish, has sapid variations such as arrosticini, thin wooden skewers with pieces of lamb cooked over an open fire; pecora al cotturo, lamb stuffed with a rich variety of mountain herbs cooked in a shepherd's copper pot; lamb cooked whole in the bread oven on important occasions; and finally Agnello cacio e oro, a tasty rustic fricasse. The variety of fish from the Adriatic has resulted in three basic brodetti (broths) variations, respectively from Giulianova, Pescara, and Vasto. The fish is cooked in an earthenware cookery pot with fresh tomatoes, various spices, and peperoncino.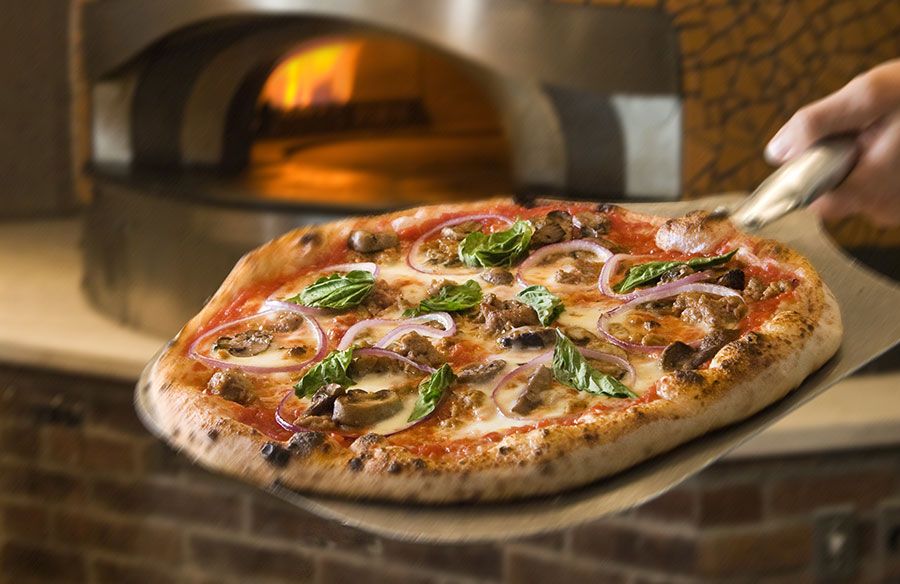 Pies and Pizza
Rustic pizzas are also very common: some of these are the Easter Pizza (a rustic cake with cheese and pepper from the Teramano area); the fiadoni from Chieti, dough of eggs and cheese well risen, cooked in the oven in a thin casing of pastry; rustic tart pastry filled with everything imaginable: eggs, fresh cheeses, ricotta, vegetables, and all sorts of flavorings and spices.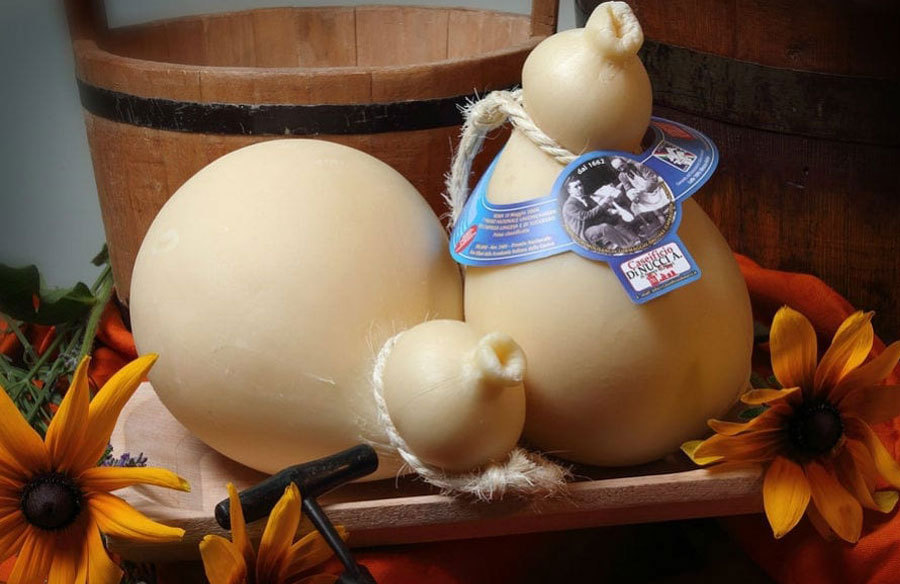 Cheeses & Salami
There are 2 types of ventricina in Abruzzo: from Teramo are spreadable sausages flavored with nutmeg, liver sausages tasting of garlic and spices. The ventricina from the Vasto area is made with large pieces of fat and lean pork, pressed and seasoned with powdered sweet peppers and fennel and all encased in the dehydrated stomach of the pig itself. Atri and Riviondoli are famous for cheeses and mozzarella – fresh or seasoned – made from ewe's milk, although a great number of lesser known varieties of these cheeses can be found all over Abruzzo and Molise.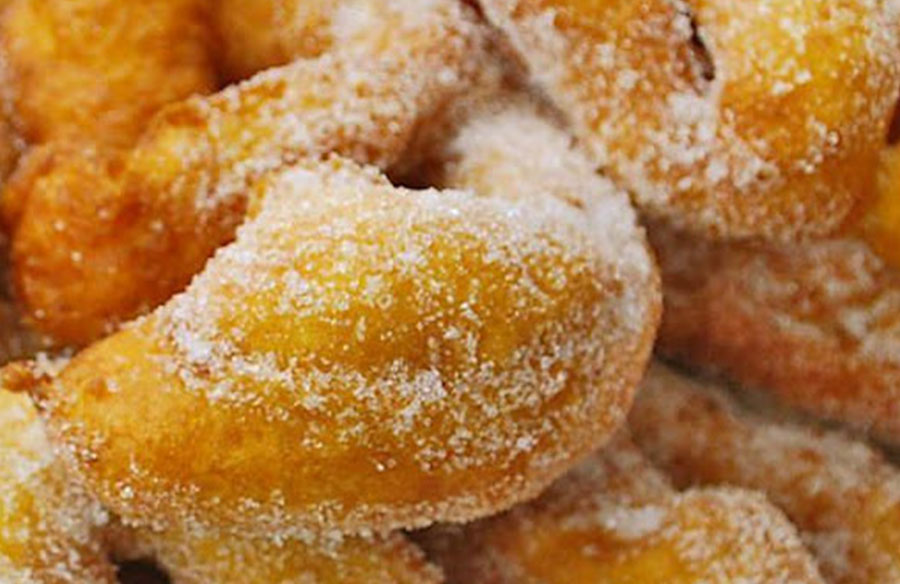 Desserts and Sweets
Last but not least, the sweets. The sweets of Abruzzo are famous throughout the world: amongst the most famous are: the confetti (sugared almonds) from Sulmona; the Torrone Nurzia, soft chocolate nougat from L'Aquila; the Parrozzo from Pescara, immortalized by the poet D'Annunzio, made from a mixture of crushed almonds. The traditional sweets include: pizelle – aniseed wafers cooked in a hot plier with large stepped teeth; the cicerchiata, balls of fried sweet dough joined into ring shapes by cooked honey; the croccante a type of nougat made with almonds and caramelled sugar, flavored with lemon; the mostaccioli essentially biscuits sweetened with cooked must; the pepatelli from Teramano, cookies of fine bran, with almonds and honey, but quite spicy; from Guardiagrele come the heavy macaroons and the sise delle manache, triangular pieces of sponge cake with confectioner's cream; and from Lanciano the bocconotti with stuffings of almonds and chocolate.
Join AMHS
The Abruzzo and Molise Heritage Society (AMHS) invites anyone with a love for Italy and a passion for their Italian heritage to become a part of our vibrant organization. The Society strives to preserve our Italian heritage and offers a variety of events and activities to enhance our community.