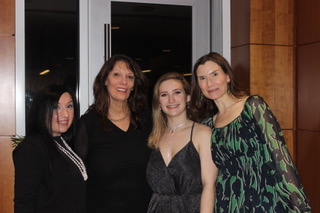 GWU's Italian Society Holds First Annual Spring Gala Italiana
AMHS Board Member Julia Paola, who is a past recipient of an AMHS Scholarship Award and President of George Washington University's Societa' di Cultura Italiana, submitted this report on the society's first annual Spring Gala
---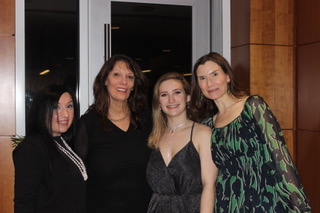 On March 5, GWU's Societa' di Cultura Italiana held its first annual Spring Gala with great success. This event represented an achievement in many different areas of my life and in the history of the club. Covid-19 forced us online between March 2020 and September 2021, but this school year, we were finally able to begin in-person events with restrictions. The gala was our first major event since February 2020 and we had the largest turnout our club has ever had during my four years at GW with over 130 people in attendance. We could not have imagined this event going any better and are so happy that everyone enjoyed the food from local Italian restaurants and socializing throughout the evening.
I dreamed of organizing a gala for the club since I was a Freshman representative in 2018 and with the help and dedication of the club's Executive Board, we were able to finally host it. The aim of this event was to drive cultural awareness and celebrate the influence of Italians on the United States and our modern traditions and allow students to partake in a bit of 'cultura italiana'. Thanks to our great sponsors, we had a sampling of Italian foods and giveaways from local businesses to foster a sense of community between our students and D.C. Our sponsors included Toscana Market, Il Canale, San Lorenzo, La Tomate, Al Dente, Capo Deli, Dolci Gelati, Carmine's and NIAF. We truly cannot thank them enough for the amazing food, cookbook, and gift cards they donated to make our event a success.
The gala was in time for Festa della Donna and International Women's Day on March 8and honored some important women. Our Italian department at GW is small, but mighty, and happens to be made up of all female professors. Antonella Longoni, Lynn Westwater, Paola Warfield, and Alessandra Harness were each given a small bouquet of Mimosa flowers and personalized notebook during the ceremony. They have crafted amazing classes on a vast number of topics, worked diligently to spread the Italian language, and supported our club, and especially me, over the past four years. The final honoree was AMHS' own Maria D'Andrea-Yothers. She was honored at the AMHS meeting on March 27th for supporting me during my internship with the Society in my freshman year and providing many opportunities to continue to grow my involvement in D.C.'s Italian community. Thanks to her, I continued my involvement with the AMHS and am now fortunate enough to participate on the Board of Directors. These women go above and beyond to help students interested in this amazing culture and we could not be more grateful.
Overall, the gala was an extremely meaningful event for GW's Italian club and a great note to end on for my time at the university. I truly could not have been more surprised by how many people wanted to attend and the businesses that were so generous to donate to us to help us put on this event. We know these past two years have been challenging for everyone, which made their efforts even more appreciated. I feel like I left my mark on GW, and I cannot express how much this event meant to me. Though I am graduating in May, I hope this gala continues as an annual event to help foster connections between Italian students, those interested in Italian, and the local community of Italian businesses and restaurants.
May/June 2022