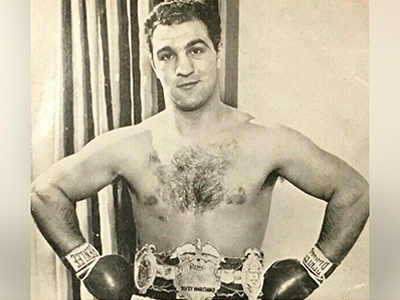 Boxing Great Rocky Marciano Had Abruzzo Roots
By Joseph "Sonny" Scafetta, Jr.
---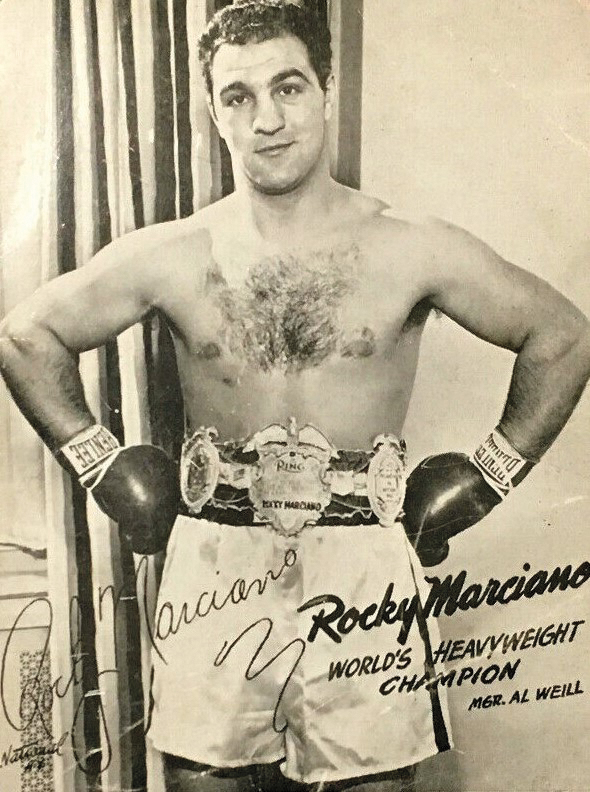 Rocco Francis Marchegiano was born in Brockton, Massachusetts, on September 1, 1923. He was named after his paternal grandfather. Rocco's father, Pierino, had emigrated in 1912 from the town of Ripa Teatina (population 4,050 in the 2018 Census) in the province of Chieti in the region of Abruzzo. His mother, Pasqualina Picciuto, had emigrated from the town of San Bartolomeo in Galdo (population 4,884 in the 2015 Census) in the province of Benevento in the region of Campania. Rocco was the oldest of six children.
As a boy, Rocco worked out on homemade weight lifting equipment and used a stuffed mail bag hung from a tree branch in his back yard as a heavy punching bag.  Rocco attended Brockton High School where he played baseball and football. He dropped out after tenth grade to work as a chute man on a delivery truck for an ice and coal firm. He later worked as a ditch digger, a railroad track layer, and a shoemaker. 
In March 1943 at age 19, he was drafted into the U.S. Army.  After boot camp, he was transferred to Swansea, Wales, where he helped to ferry supplies across the English Channel to Normandy. While awaiting discharge, he represented the Army and won the 1946 Amateur Armed Forces Boxing Tournament.  He was honorably discharged at Fort Lewis, Washington, in March 1946.  In March 1947, he tried out for a farm team of the Chicago Cubs in Fayetteville, North Carolina, but did not make the roster.  He then returned to Brockton where he began to train as a boxer with Allie Colombo.  Rocco was five feet, 10½ inches tall, and was a heavyweight.  His handler suggested that he shorten his full name to Rocky Mack, but Rocco rejected the surname in favor of the Italian Marciano.  During the Spring of 1948, he competed in the Olympic tryouts held in the Boston Garden.  Although he knocked out his first opponent, Rocky hurt his hands during the bout and was forced to withdraw.
Rocky began fighting as a pro on July 12, 1948. He won his first 16 bouts by knockouts, all before the 5th round, including nine in the 1st round. In his 17th fight, Rocky went the distance and defeated Don Mogard (17-9-1) in a scheduled ten-rounder for his first unanimous decision. Rocky won his next three fights by knockouts. He won his 21st fight by his second unanimous decision over Ted Lowry (58-48-9). After four more knockouts, Rocky won his only split decision against undefeated Roland La Starza (37-0-0).
The 27-year-old Rocky then took a break to marry 22-year-old Barbara Cousins in 1950. They had two children, Mary Anne (1952-2011) and Rocco Kevin. After returning to the ring, Rocky scored three more knockouts before his 30th bout which he won by a third unanimous decision in a rematch against Lowry who was then (61-56-10). Four more knockouts were followed by his 35th fight which was his fourth unanimous decision in a bout with Willis "Red" Applegate (11-14-2). After two more knockouts, the 28-year-old Rocky took on the 37-year-old former champ, Joe Louis, whose record was (66-2-0). Rocky won a technical knockout in the 8th of their scheduled ten-round match. Louis retired after the fight.
After four more knockouts, Rocky was finally given a shot at the world title. His 43rd bout was fought against the current heavyweight champ, 38-year-old "Jersey" Joe Walcott (51-16-2), in Philadelphia on September 23, 1952. Although Rocky was knocked down in the first round, he rallied to knock out Walcott in the 13th round of a scheduled 15-round fight to become the new world champion. On May 15, 1953, the boxers held a rematch in Chicago where Rocky knocked out Walcott in the first round. Walcott retired after the fight. Rocky's 45th bout was held on September 24, 1953, at the Polo Grounds in New York City where he earned a technical knockout against his former nemesis, Roland La Starza, in the 11th round of a scheduled 15-round fight. Rocky's next title defense was against the 33-year-old former champ, Ezzard Charles (85-10-1), who went the distance in a 15-round match in Yankee Stadium in New York City on June 17, 1954. Charles was the only fighter to last 15 rounds against Rocky, who won a unanimous decision. Exactly three months later, Rocky won a rematch against Charles in the same ring by a knockout in the 8th round. On May 16, 1955, Rocky defended his title in San Francisco against the 27-year-old European and British champion, Don Cockrell (66-11-1). Rocky won a technical knockout when the fight was stopped in the 9th round. Rocky's last title defense was against the 38-year-old Archie Moore (149-19-8) on September 21, 1955, back in Yankee Stadium. Although Rocky was knocked down in the 2nd round, he knocked out his challenger in the 9th round. Rocky then announced his retirement on April 27, 1956, at age 32. He finished his career with a record of 49-0-0. He is the only undefeated heavyweight champion and his knockout-to-win percentage of 87.8% is the highest in heavyweight boxing history.
After retirement, Rocky moved his family to Wilton Manors, a suburb of Fort Lauderdale, Florida, and hosted a weekly boxing show on television. He also became a vice president of Papa Luigi Spaghetti Dens which franchised restaurants out of an office in San Francisco. On August 31, 1969, he visited the home of former race car driver, Andy Granatelli, who was then the chief executive officer of a motor fuel additive company named STP based in Chicago. After dinner, Rocky left to fly with a friend, Frank Farrell, 28, to Des Moines, Iowa, on a private plane piloted by Glenn Betz. It was dark and bad weather set in, so Betz tried to land the plane at a small airfield outside Newton, Iowa, but hit a tall tree two miles short of the runway and crashed. All three were killed on impact. Rocky was one day short of his 46th birthday. The National Transportation Safety Board blamed the accident on pilot error.
Rocky was interred in a crypt at Forest Lawn Memorial Cemetery in Fort Lauderdale. His wife died from lung cancer five years later at the age of 46 and was entombed next to him. In 1977, The Ring magazine ranked Rocky as the greatest Italian-American boxer. Rocky was also inducted into the International Boxing Hall of Fame and the World Boxing Hall of Fame. A bronze statue of Rocky was unveiled on the grounds of Brockton High School on September 23, 2012, the 60th anniversary of his winning the world heavyweight title. A bronze statue was also erected in his father's home town of Ripa Teatina.
Sources:
May/June 2022