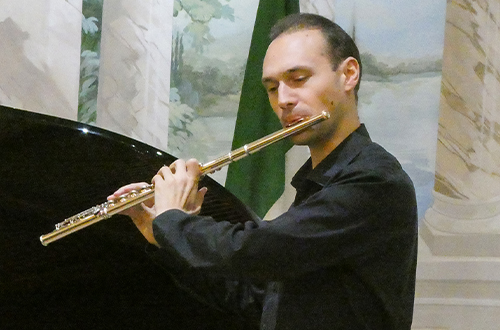 Talented Musician, Neapolitan Author, Both Featured at AMHS Program
By Nancy DeSanti, 1st Vice President-Programs
---
Our final AMHS speaker program for 2023 started out with a real treat for the attendees — a surprise performance by AMHS music scholarship winner Giorgio Consolati. Afterwards, Professor Carmine Vittoria told us about his two most recent, very different books.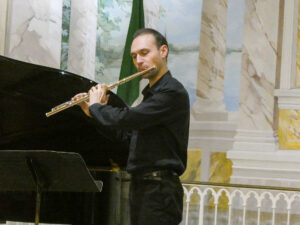 The program, held at Casa Italiana on September 10, 2023, began with Giorgio's introduction by Liz DiGregorio, on behalf of the AMHS Angela Raisch scholarship committee. Liz noted that Giorgio, who is from Milan, is a graduate of the Julliard School and is currently a doctoral candidate at Peabody Conservatory in Baltimore. Giorgio has performed at venues such as Carnegie Hall, and Liz told us that his lustrous tone and virtuosity would be on full display — and they were!
Giorgio played the flute while Hui-Chuan Chen, his colleague in Baltimore, accompanied him on the piano. He selected the piece "Il Pastore Svizzera for Flute and Piano" by Pietro Morlacchi. It was enthusiastically received by an appreciative audience.
After lunch, Carmine began his talk by telling us a little about his life. He was born before the start of World War II in Avella, a small town 20 kilometers northeast of Naples. As a boy, he helped tend sheep in the mountains near Avella. His father died in Libya in 1941. After the war, the family immigrated to the United States.
Before Carmine's talk, a delicious lunch was catered by A. Litteri. Our thanks to all those who helped in arranging and serving the lunch and to all those who donated raffle prizes and bought tickets. A special thanks is owed to AMHS member, Maria Marigliano, for her technical assistance.
He received a Ph.D. in applied quantum physics from Yale University in 1970. He taught physics for 32 years at Northeastern University in Boston after working at the Naval Research Lab here on projects involving microwave magnetic materials and the Stealth bomber technology.
AMHS members may recall then when Carmine was here in June 2019, he told us his story of hardship and survival through the eyes of a boy growing up in the small town of Avella before, during, and shortly after World War II. This true story of his life became the basis for his book "Bitter Chicory to Sweet Espresso," which he has since translated into Italian.
Since then, Carmine has written two more, very different books which were the subject of his talk.
The first book, "Once Upon a Hill," is his "second memoir." He writes about the experiences of two shepherd boys on Mount Avella. They immigrated separately to the United States and took very different paths in life — one entered academia and the other entered the Mafia — and how they reconnected in Boston's heavily Italian North End many years later. The lives of both unfolded during a turbulent era of Irish political power and the Irish gangs led by Whitey Bulger who controlled much of Boston's criminal activity and who at the same time was informing on the Mafia.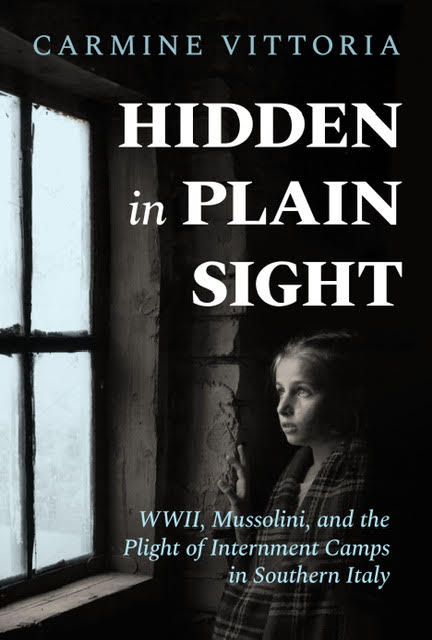 The other book, "Hidden in Plain Sight," describes World War II interactions between internees and townspeople in Mussolini's internment camps for Jews and anti-fascists in remote areas of Southern Italy, particularly in Basilicata and Calabria. Carmine pointed out that these internment camps were basically remote places of exile rather than the brutal concentration camps set up by the Nazis elsewhere. He explained how a bond formed among the internees and the townspeople and the various ways they all pulled together to survive the hardships of the war.
Our speaker came all the way from Florida, where he is now retired and plants fig trees and runs a bridge club. Carmine has just written another scientific book, "Magnetics, Dielectrics, and Wave Propagation," which will be published in November 2023.
This event was co-sponsored by the Casa Italiana Sociocultural Center. Our special guests included our new Holy Rosary Pastor, Father Walter Tonelotto; Maria Fusco, the Embassy of Italy's Education Director; and Dr. John Mather, our Nobel-Prize-winning speaker in January 2023. Dr. Mather spoke to us about the James Webb Space Telescope for which he was chief scientist. Dr. Mather's fiancée, Cheryl Hoffman, was also a guest.