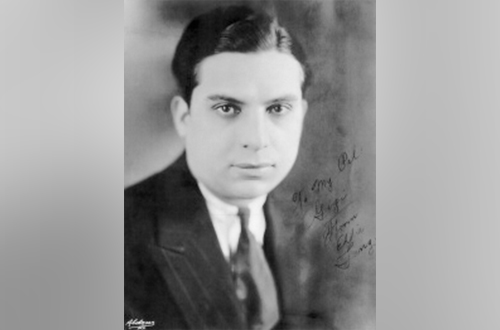 Pioneering Jazz and Blues Musician Eddie Lang
By Joseph "Sonny" Scafetta, Jr.
---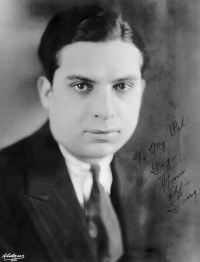 From humble beginnings in Philadelphia, a son of Molisano immigrants changed his name and helped revolutionize jazz and blues music, while performing with some of the biggest stars of the 20th century.
Salvatore Massaro was born at home in the 700 block of Saint Albans Street in the Little Italy section in the south end of Philadelphia, Pa., on October 25, 1902. His parents had emigrated from the community of Monteroduni (population 2,140 in the 2017 Census) in the province of Isernia in Molise. His father was a musical instrument maker. Salvatore attended a nearby elementary school where an older pupil named Joe Venuti introduced him to the violin at age 7. When Salvatore turned 15, he dropped out of school and became a member of a local trio, although he could not read music.
In 1920 at age 18, he legally changed his name to Eddie Lang, exchanged his violin for a banjo, and began working with band leaders Charlie Kerr, Bert Estlow, Vic D'Ippolito, and then Billy Lustig. In 1924, he exchanged his banjo for a one-stringed guitar when he became a member of the Mound City Blue Blowers led by Red McKenzie. He recorded one of the first guitar solos in "Deep Second Street Blues" in 1926. Before his performance, the guitar had not been a prominent instrument in jazz bands and dance orchestras. Lang and Venuti then performed with the Adrian Rollini Orchestra. Lang also recorded with black blues guitarist Lonnie Johnson who used the stage name Blind Willie Dunn. Altogether, Lang recorded 22 songs during his career.
In 1929, Lang and Venuti became members of the Paul Whiteman Orchestra. Vocalist Bing Crosby soon joined the orchestra on a trip west to Hollywood to make the movie King of Jazz in which Lang and Venuti appeared. Through Crosby's wife, Lang met Kitty, a Ziegfeld girl, whom he soon married. They had no children. In 1930 when Crosby was looking for a job in radio, he had Lang as his accompanist. Two years later, Crosby made another movie The Big Broadcast in which Lang also appeared. When Crosby returned to New York City and started his orchestra in late 1932, he hired Lang as a regular.
Lang suffered from occasional laryngitis and had a chronic sore throat. After a doctor recommended a tonsillectomy, Crosby urged Lang to have the operation. Assured that the surgical procedure was routine, Lang entered Park West Hospital in Manhattan on March 26, 1933. He never woke up from the surgery and died at age 30.
Lang was one of the first single-string guitar soloists. He played a melody on a one-stringed Gibson L guitar but occasionally added more chords. He showed that the guitar could be a band instrument. He was skilled enough to make his acoustic guitar heard among the other band instruments. Lang was so influential that banjo players soon switched en masse to the guitar and the banjo was dropped from most bands. As a result, Lang is known as the father of the jazz guitar. He was inducted into the American Society of Composers, Authors, & Publishers (ASCAP) Jazz Wall of Fame in 1986 and the Big Band & Jazz Hall of Fame in 2010.
Sources: