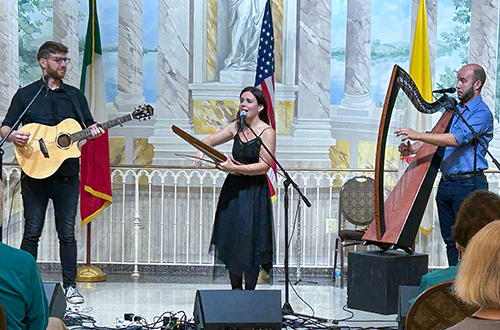 Ensemble Sangineto Takes Audience on Magnificent Musical Tour of Italy
By Nancy DeSanti, 1st Vice President-Programs
---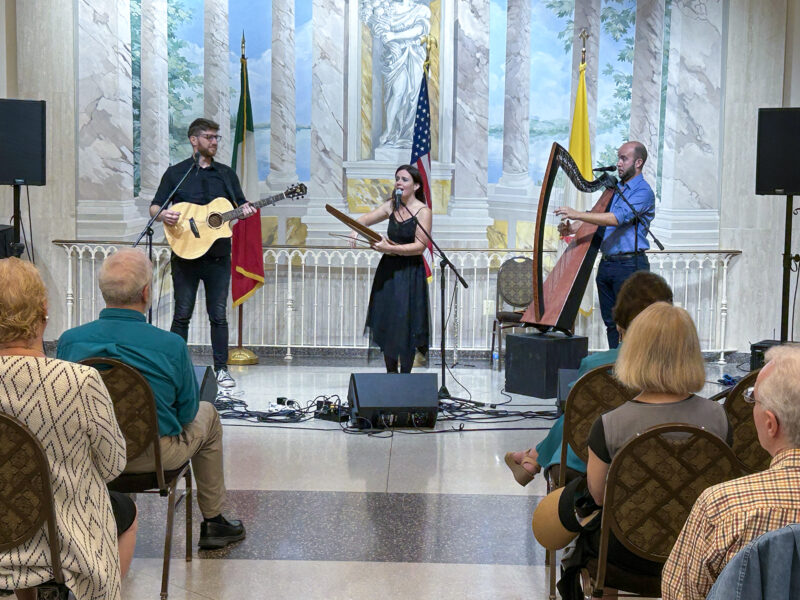 On a beautiful Fall afternoon, AMHS members and guests were treated to a wonderful musical journey through the regions of Italy, thanks to a talented, Italian musical group known as Ensemble Sangineto.
This trio from northern Italy blends folk influences from throughout Europe — including Irish, Breton, and French traditions — with classical music, early music, Celtic music, Gregorian chant, musical theater, and modern pop and jazz influences. The group performed some of their unique traditional songs of the 20 regions of Italy in Casa Italiana on Sunday, October 29, 2023.
Many thanks to Lynn Sorbara for having the idea to invite Ensemble Sangineto to Casa Italiana, and many thanks to Peter Bell for helping to make the plan a reality.
Ensemble Sangineto was co-founded by Adriano and Caterina Sangineto, who are twins. The group consists of Adriano on Celtic harp, stomp box, and vocals; Caterina on bowed psaltery, flute, percussion, and vocals; and Jacopo Ventura on acoustic guitar, bouzouki, and vocals. They charmed everyone with their warm personalities and many of the audience members enjoyed chatting with them before and after the performance.
The twins' father, Michele, is a noted instrument maker in Monza, a city just north of Milano. Growing up, Adriano and Caterina had the opportunity to play instruments built by their father as well as others he had collected or bought elsewhere. Adriana and Caterina attended music academies in Monza and neighboring Villasanta, then went to the Conservatorio di Milano where Adriano learned clarinet and Caterina learned flute. Both also played harp and a bowed psaltery, which is a triangular-shaped, stringed instrument that probably originated in the Middle East. In fact, during their performance at Casa Italiana, Caterina played a bowed psaltery made by her father. She had carried the instrument over on the plane.
Jacopo studied at the Conservatorio G. Cantelli in Novara. He began studying classical guitar and then became interested in instruments, such as the mandolin, bandurria, bouzouki, and oud.
Last year, the group began "Grand Tour Vol. 1," marking the first installment of a two-part project paying tribute to traditional Italian music with fresh renditions of folk songs from each of the 20 regions of Italy. This project gave rise to the concert "Le Grand Tour — Songs and Enchantments from the Alps to the Mediterranean Sea."
During their performance, the group played songs from Lombardia and Liguria to Sicily and Sardegna, including "Mare Maje" (Abruzzesse), "Canto delle lavandaie del Venero" (Neapolitan), "Si maritau Rosa" (Sicilian), and "Procurade è moderare" (Sardinian). The group also mixed in a couple of their original compositions which were well received by the enthusiastic audience.
Their songs basically aim to combine Italian folk melodies with a modern international flair, in pursuit of the continuity and innovation of Italian folk music, drawing from the traditions of other European countries and regions, particularly Irish, French, Breton, and Scottish music.
Adriano was recently quoted as telling an interviewer: "When you create a tune or a song, you prepare yourself to be the center of a universe full of feelings, words, and beauty. That magic force will be shared by the listeners and by any other person who wants to live and discover your soul. That is pure magic, is it not?"
Yes, it is. And they definitely shared the magic with us!