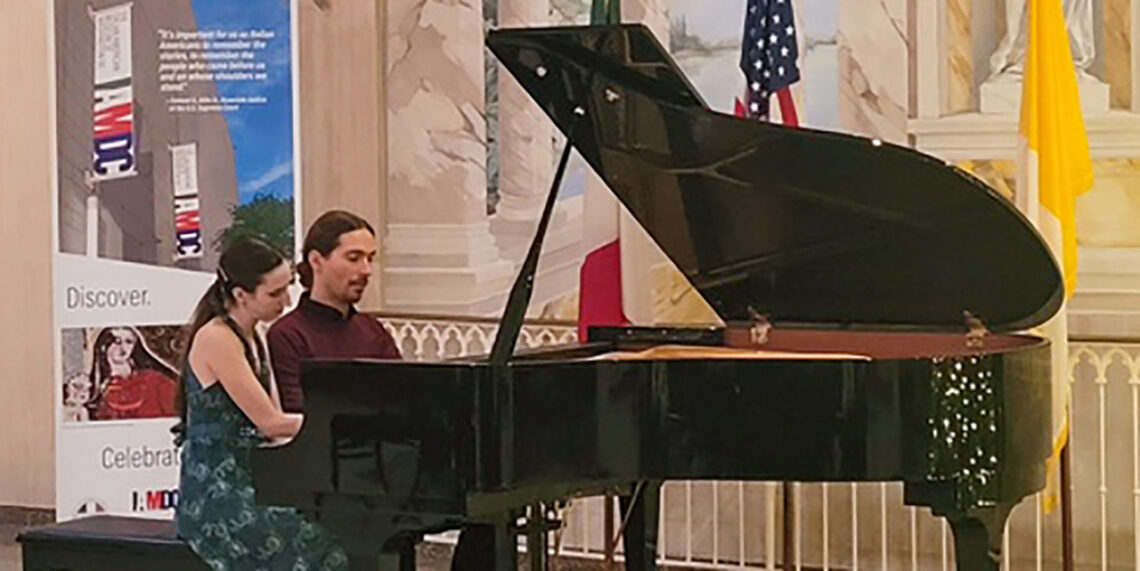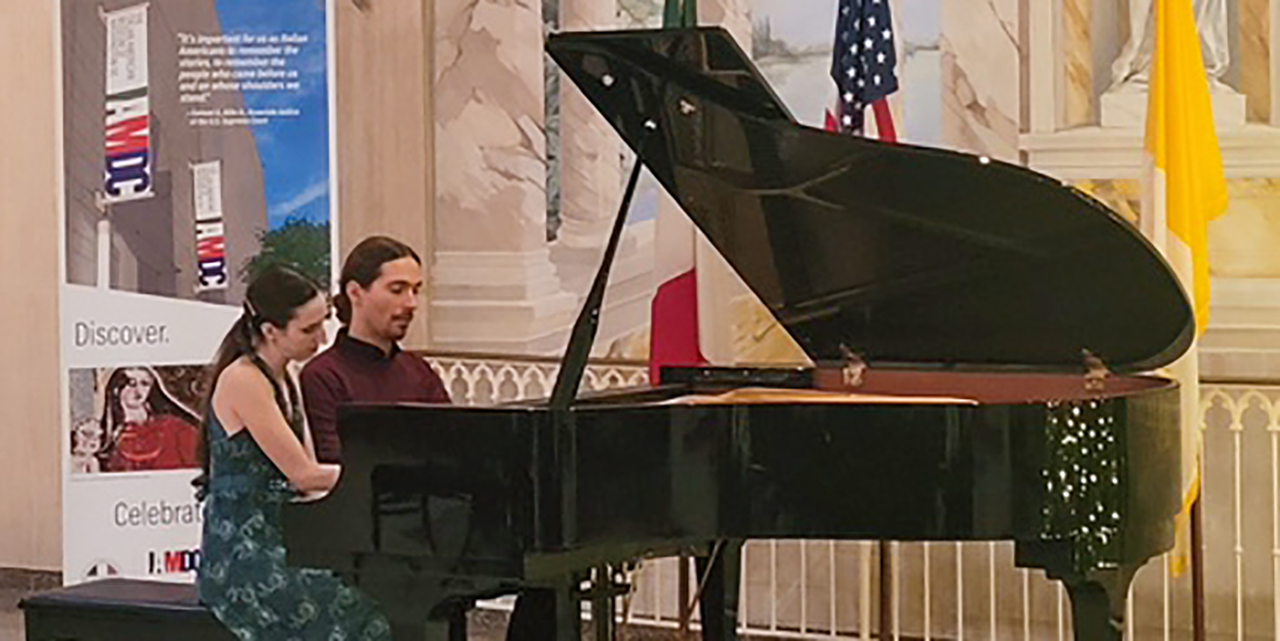 Pianists from Rome Delight Audience at Casa Italiana
By Nancy DeSanti, 1st Vice President-Programs
---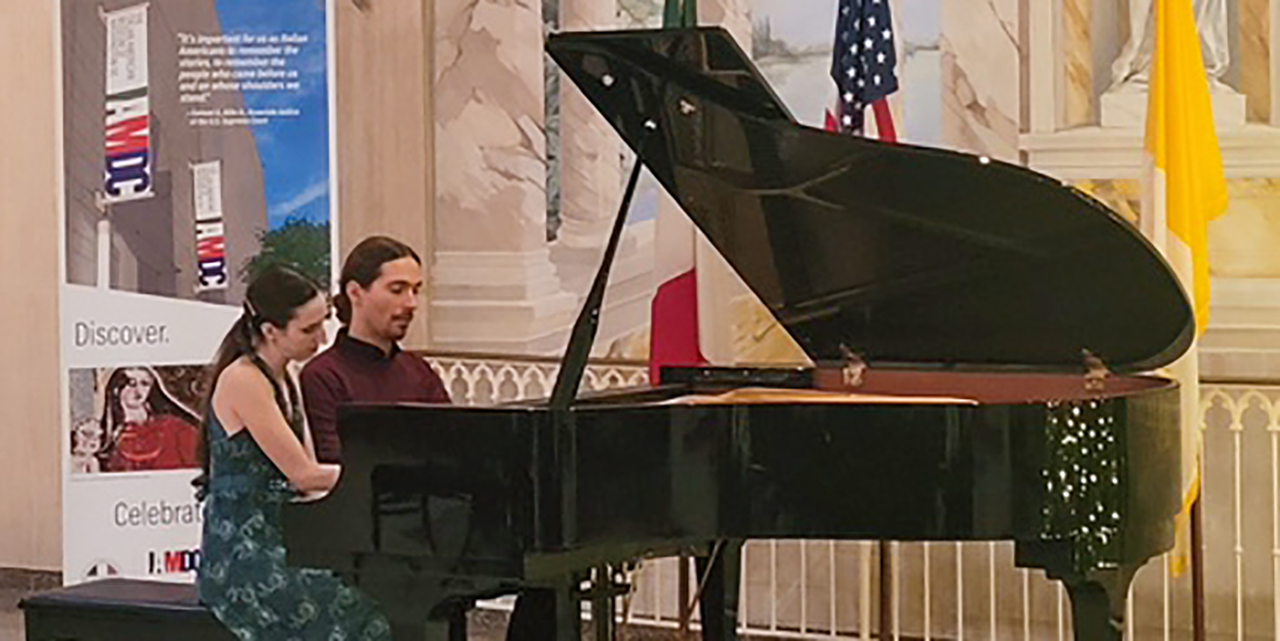 AMHS members and their guests were recently treated to an outstanding performance by two very talented pianists visiting from Rome. The musicians, Vincent Catalano and Katrina Sudman, performed at Casa Italiana on December 11, 2022.
Their trip had been months in the planning, since AMHS President Ray LaVerghetta visited Italy last spring. That is when he met Vincent and his wife Katrina who now live in Rome. They finally arrived here a few days before the concert and were hosted by Peter Bell and then Robert D'Onofrio.
This was their only performance in the Washington, D.C., area, and they said they selected a special program for us, beginning with Scarlatti's Sonata in D Major and ending with Rossini's Overture to La Gazza Ladra (the Thieving Magpie), a very Italian piece and a real crowd-pleaser. Then, they delighted the audience with several four-hand piano duo selections. Their repertoire was inspired by Italian opera, song, and dance.
Vincent Catalano was born in L' Aquila, in Abruzzo, where he graduated with the highest possible scores at the G. Braga Conservatory in Teramo. He then graduated with a Master's Degree in Piano Interpretation-Composition, summa cum laude. He perfected his musical studies with internationally renowned pianists, Aldo Ciccolini and Carlo Maria Dominici, with whom he is currently studying and who himself studied with famed pianist Vladimir Horowitz.
Vincent has won a number of piano competitions including the "8th Concorso Nazionale di Cittá S. Angelo" held in Pescara, Abruzzo, where he performed at the event "Dal'Etna al Gran Sasso Tradizioni in Festa." He also won 1st place at the "10th Concorso Internazionale Paolo Barrasso di Caramanico Terme", also held in Pescara, and 2nd place at the "17th Concorso Nazionale Flegreo in Pozzuoli" held in Napoli.
In addition to various piano master classes, he participated in many concerts in Rome, Saracinesco, Pescara, Gaeta, Napoli, and Viterbo. He also performed in Teramo for the "150 years of Italy's Unity" celebrations in 2011. He dedicates himself with passion to instrumental duos including a piano four-hands duo with Katrina, as well as with violin and flute.
Katrina Sudman is from the Chicago area, and currently lives in Rome. She earned her Master of Music in Piano Performance from the Chicago College of Performing Arts at Roosevelt University and her Bachelor of Music in Piano Performance, summa cum laude, from Azusa Pacific University in California. She now continues her studies privately with internationally acclaimed pianist Carlo Maria Dominici in Rome.
In 2018, Katrina took 2nd place in the International Piano Competition at the Festival of the Gulf in Salerno. She has performed in venues across the Chicago area, including the Grant Park Music Festival and the Chicago Botanic Gardens.
In addition to her solo performances, Katrina performs a four-hand piano duo with Vincent. Together they have performed throughout Chicago and in the Basilica of St. Anne in Detroit, which is the second-oldest continuously operating parish in the United States. She also collaborates with violinist Hsuan Chen of the Civic Orchestra of Chicago. She has been on faculty at Concordia University since 2017 as a piano instructor in the Preparatory and Community Piano Program.
The talented duo seemed to have really charmed the audience. They said that they enjoyed meeting attendees before and after the concert. They added that they felt very much at home in Casa Italiana.
A big thank you to all those who helped make the concert a success, especially Ray LaVerghetta, Peter Bell, Maria Marigliano, Lynn Sorbara, Richard Durkin, John Dunkle, and Julie Finigan Dal Forno. Unfortunately, Ray was unable to attend, so the pianists were introduced by Nancy DeSanti.