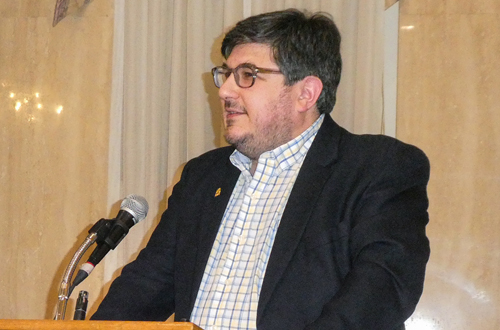 History of Italian Stamps
Topic of Talk by Smithsonian Expert Dan Piazza
By Nancy DeSanti, 1st Vice President-Programs
---
AMHS members and guests were treated to a fascinating and informative talk on Italian stamps. The talk was a lesson in history as well. Daniel A. Piazza, the Smithsonian's leading stamp expert, was the speaker at a luncheon program at Casa Italiana on Sunday afternoon, June 25, 2023.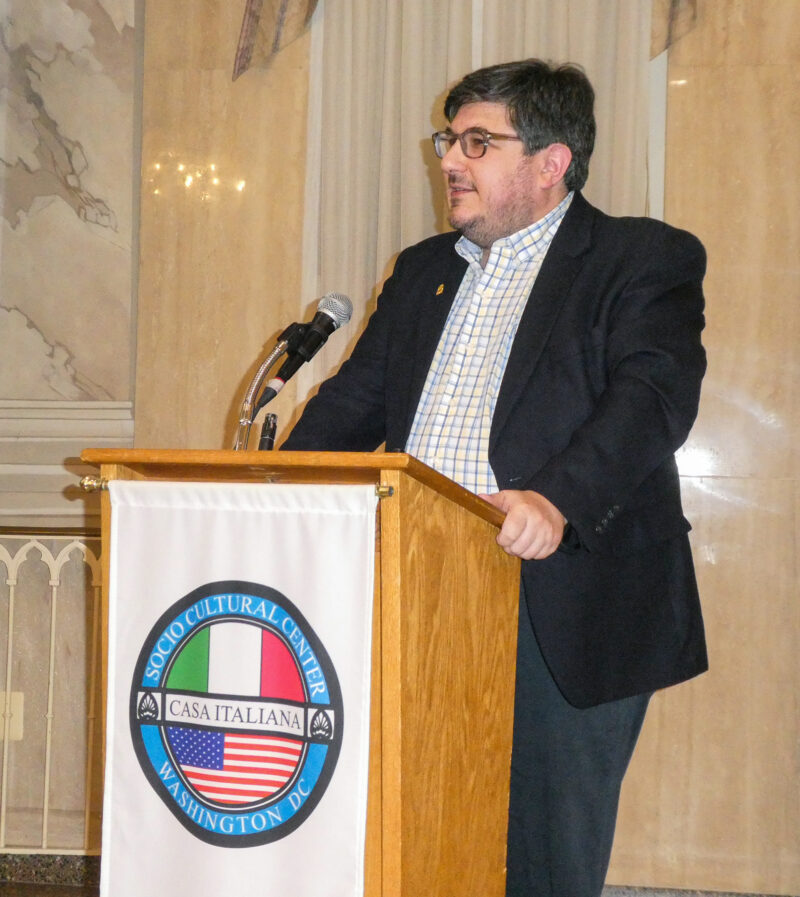 Dan has been the Chief Curator of the Smithsonian's National Postal Museum since 2014. He is responsible for exhibitions, acquisitions, and research related to the museum's collection of six million postage stamps and postal artifacts comprising one of the largest such collections in the world. Visitors may be surprised to learn that, despite its name, about half of the material in the museum came from other nations. The museum, located a few blocks from Casa Italiana, opened to the public in 1993.
As Chief Curator, Dan has overseen exhibitions that included "Freedom Just Around the Corner: Black America from Civil War to Civil Rights," which won the 2016 Smithsonian Research Prize. A few of his other exhibitions were on Alexander Hamilton, on 100 years of the national parks in 2016, and on the world's most famous stamp. In case you are wondering what it is, it is a unique one-cent magenta-colored by British Guiana in 1856.
Dan earned his master's degree in American History from Syracuse University where he also taught history courses and was a Fellow in the university library's rare book collection. He lectures widely and contributes to many philatelic journals and collector periodicals. He is also a member of several national and international philatelic societies, including the prestigious Royal Philatelic Society of London. In fact, when Dan finished his talk, he was heading to the airport to go to London to give a talk to that organization.
Dan said he has been interested in stamps since he was a boy, especially Italian stamps — not surprising since his father's side of the family is from Agrigento, Sicily, and his mother's side of the family has roots in Catanzaro in the region of Calabria, the city of Genoa, and Friuli province.
In a wide-ranging presentation, Dan traced the origins of the Italian postal service in northern Italy in the 13th century. Later, a primitive version of a stamp appeared in Venice in 1608.
He noted that the development of a postal system occurred earlier in Italy than in the rest of Europe. He traced the history of stamps through the Napoleonic era, when Italian towns were given French names and the French calendar was used. However, the Congress of Vienna restored national borders after Napoleon's fall in 1815. By 1819, postal paper could be purchased for later use. Thus, such paper was effectively a government I.O.U. for letters to be carried.
Dan explained that, before the unification of Italy, there were treaties to account for different currencies and borders. Such accounting was a big headache and required post offices to have large accounting departments to sort everything out.
At that time, there was no home delivery, so everyone had to go to the post office to get the mail. The names of addressees who had mail waiting at the post office were published in the local newspaper. Dan pointed out that before 1847 this procedure was also the practice here in the United States. In fact, American Express and Wells Fargo got their starts as mail forwarders.
In the 16th and 17th century, because of widespread banditry, some envelopes had a warning in the form of a drawing of a hangman's noose since most people were illiterate in those days, including the mail carriers. Today, the consequences of tampering with the mail are not as severe, but Dan advised against sending abroad greeting cards with colored envelopes since they are seen as likely containing cash. Registered mail is also a target because it is viewed as containing valuables.
Speaking about the stamps themselves, he noted that the best stamp artists have a knack for combining pictures and text in a very small space, and their services are very much in demand. In 1950, one of Italy's best-known stamp artists, Corrado Mezzana, made a set of stamps called Italia al Lavoro (Italy at Work) featuring traditional crafts of all 20 regions of Italy. For example, he showed Mezzana's stamp featuring embroidery and lacemaking for the region of Abruzzo and Molise, which was combined at that time until 1963.
As to the Italian postal system nowadays, Dan noted that, like many postal systems in Europe, it was privatized in 1998. The results have been mixed, so the jury is still out on its effectiveness.
He told the audience that the National Postal Museum has a permanent stamp gallery which he curated and which includes information about Italian stamps, adding that the material is constantly being digitized.
Dan, an AMHS member himself, has offered to give Society members and friends a guided tour of the museum in September. Members will be notified when a date has been scheduled. Visitors will be able to see some of the items Dan mentioned in his talk, such as the oldest stamped envelope in the museum's collection. It is a piece of mail sent in 1390 from Damascus to Venice. It took about a month to be delivered. An example of the hangman's noose envelope is in the museum's collection. There is also a 1920s photograph of Charles Ponzi wearing a trench coat and fedora. If visitors wonder why this namesake of the Ponzi pyramid scheme is represented in the museum, Dan explained during his talk that Ponzi earned his place in a postal museum because he used the international postal system for his scam involving exchange rate differences and international reply coupons.
AMHS members may recall that Dan gave us an excellent virtual talk in July 2022 on the history of the stamps of fascist Italy and then in October 2022, he gave AMHS members a guided tour of the baseball exhibit which he curated in the postal museum.
The June 25 program was organized by the AMHS and was co-sponsored by the Casa Italiana Sociocultural Center. The delicious cold lunch was catered by A. Litteri. Many thanks to those members who helped deliver, set up, and serve the lunch, donated raffle prizes, and bought raffle tickets. A special thanks is owed to Sonny Scafetta for suggesting Dan as our guest speaker.