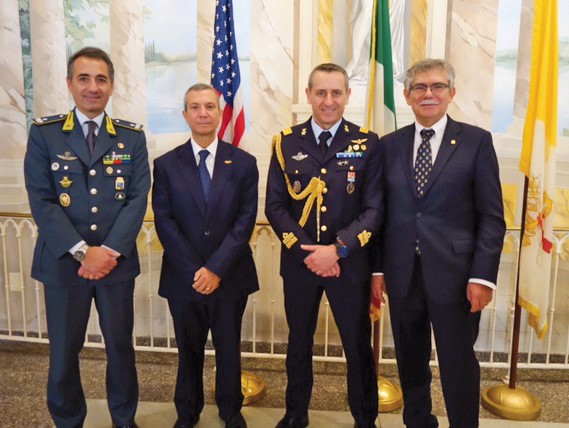 Father of Scholarship Winner Speaks at Falcone Commemoration
By Nancy DeSanti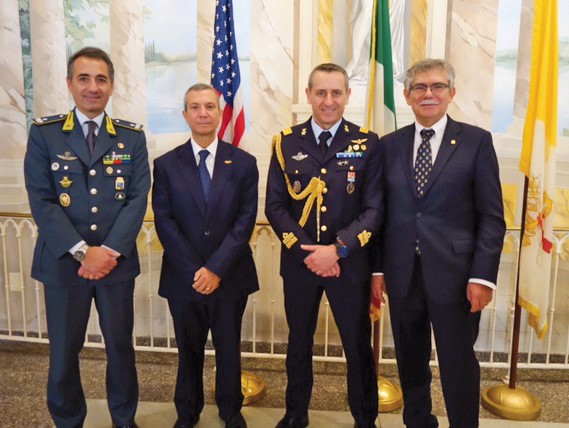 ---
Retired FBI Special Agent Carmine Nigro was the guest speaker at an event commemorating the 30th anniversary of the assassination of anti-Mafia Judge Giovanni Falcone. Carmine is the father of Gianluca Nigro, a 2017 NIAF/AMHS scholarship winner.
Gianluca's father spoke at a reception held on May 22, 2022, in Casa Italiana which followed a Mass in Holy Rosary Church attended by officials from the Embassy of Italy — Brigadier General Salvatore Russo, the Guardia di Finanza Attache, and General Maurizio Cantiello, the Defense Attache. This year's ceremony, hosted by the Casa Italiana Sociocultural Center Inc., was co-sponsored by several organizations, including the AMHS.
CISC President and AMHS member Francesco Isgro opened this year's program by introducing the special guest speaker. For many years, working out of the New York and Washington, D.C., field offices, Carmine Nigro was closely involved in investigating the Cosa Nostra and organized crime. He also served as the assistant legal attache in Rome. Nigro said he was with Falcone in many instances and came to greatly admire him, and he shared with the audience some interesting anecdotes about the time he spent with Falcone.
Nigro recalled that he met Falcone in 1989, just two years after he graduated from the FBI Academy. Whenever the judge visited New York, Special Agent Nigro was part of Falcone's FBI protective detail. He noted that Falcone enjoyed his dinners in New York with his FBI detail because in Italy, he seldom dined at restaurants, went to the movies or a theater, or even a soccer game.
In Italy, the 30th anniversary was commemorated by the issuance of a 2-euro coin with the face of Falcone on one side and of his colleague Paolo Borsellino on the other side. Both were anti-Mafia judges killed in Sicily in massive car bombings by the Cosa Nostra a few months apart.
There were a number of special programs on RAI-TV to mark the anniversary of Falcone's May 23, 1992, assassination. Also, the mangled remains of Falcone's escort car were exhibited in a glass case which went on display in the center of Rome. At the time he received his scholarship award, Gianluca Nigro was a student at George Washington University, with a political science major and minors in Italian and history. His Italian roots are in Campania on his father's side, while Molise is the region of his mother's background. Lourdes Tinajero, who was on the AMHS Scholarship Committee, remembers that his application was "outstanding." Gianluca also kindly agreed to emcee the Festa della Repubblica celebration, held at the Church of the Nativity, in June 2018. This was a joint celebration between the Nativity Italian Cultural and Heritage Society, the Italian Cultural and Heritage Society at St. Mary of Sorrows, and the AMHS.
July/August 2022