AMHS to Administer Angela Lastrico Raish Scholarship
By Ray LaVerghetta and Liz DiGregorio
The AMHS Scholarship will begin managing the Angela Lastrico Raish Scholarship at the end of 2022. The award, named for a prominent member of the Washington area Italian American community, will be distinct from, and in addition to, the two scholarships awarded by the Society each year.
Last year the AMHS received a proposal to manage this new award. After careful consideration, the Society's Executive Committee voted to accept the proposal. The new scholarship, valued at $2500, will target exceptional students in the music arts field who have either an Italian background or an interest in Italy or Italian studies. Our organization will not be responsible for funding the new scholarship, whose financial support will come instead from the estate of the late Angela Lastrico Raish. Ms. Raish was a proud Italian American woman who had a great passion for music, Italy and the Italian language. She also gave great importance to encouraging young people, especially women, to pursue their dreams of excellence in the music arts field.
Our Scholarship Committee will begin managing the program at the end of this year, as the first scholarship will be awarded in the spring of 2023. The application period for the scholarship will coincide with that of our own awards: it will open on December 1 of this year and close at the end of March 2023. The winner will be announced in early May 2023. The application form, the requirements for the application process, and the eligibility criteria are currently on our website, under the scholarship tab.
Angela, who passed away earlier this year at the age of 100, had friendships with a number of AMHS members, took classes at the Casa Italiana Language School, and attended some of our AMHS events. One of her friends, Liz DiGregorio, has offered us an excellent look at her life, which we reproduce below.
About Angela Lastrico Raish
Angela Lastrico Raish was born in Ashton, Iowa, in 1921. She was one of three children born to immigrant parents from the Liguria Region of Italy. Her father ran a confectionary and ice cream store in Ashton. Italian (Genovese dialect) was spoken at home and her mother never lost her Italian accent. During the Depression, her family relocated to Sioux Falls, South Dakota, where her father opened a grocery store.
Educated by both the Franciscan and Dominican nuns, Angela developed a strong Catholic faith, superb typing and shorthand skills and a love of music, especially piano and voice.
Because Angela grew up during the Depression when money was tight, her love of music and piano playing took a back seat. College was out of reach so she signed up for "commercial school" where she learned office skills and where she took the Civil Service test that opened doors to Washington, D.C., for her.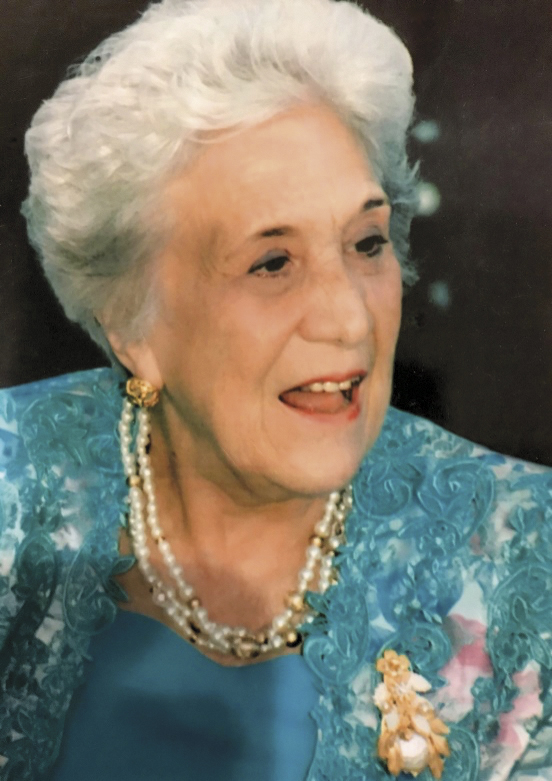 In 1942 she came to Washington, D.C., as part of the "government girls" beginning her first job with the U.S. Navy Department in Washington, D.C. She met her future husband, Bob Raish, who served in both the Atlantic and Pacific fleets during World War II. They married in 1947, had two sons, and from 1952 through 1967 lived in London and Paris.
Her professional career began in the late 1960's. She worked tirelessly behind the scenes for people whose names read like a "who's who" of Washington politics. Her career took her to the National Republican Committee; the Office of Senator Bob Dole; the White House, Counsellor to the President; and for 20 years, confidant, personal secretary, scheduler and constituent liaison to Senator Pete V. Domenici of New Mexico. She was viewed by all as "il braccio destro" (the right-hand man) of whoever she worked for.
Angela never lost her love for Italy, the Italian language or music. She studied Italian at Casa Italiana in Washington, D.C., kept in touch in Italian with family in Camogli (Liguria), and always, always had music in her life. Season tickets to the Alexandria Symphony and opera tickets at the Kennedy Center were a must. When she moved to Goodwin House Residential Care in 2012, her volunteer job was singing to the residents in the Alzheimer unit every Saturday afternoon. As she often remarked, "Music is for everyone, it is a language we can all understand. It lifts the soul." Angela passed away on June 3, 2022.
November/December 2022