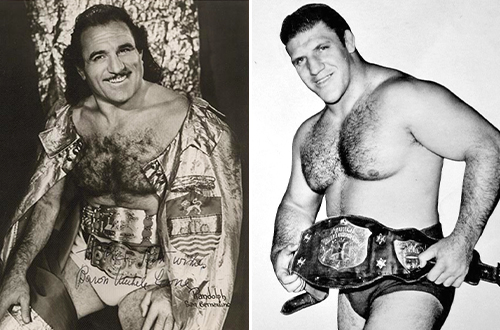 Abruzzo's Strong Mark on the World of Professional Wrestling
By Joseph "Sonny" Scafetta, Jr.
(Editor's Note: Professional wrestling, with its colorful characters and slam bang action has attracted a loyal fan base for decades. The Notiziario's Joseph "Sonny" Scafetta, Jr., profiles two legends of the sport who hailed from Abruzzo.)
"Baron" Michele Leone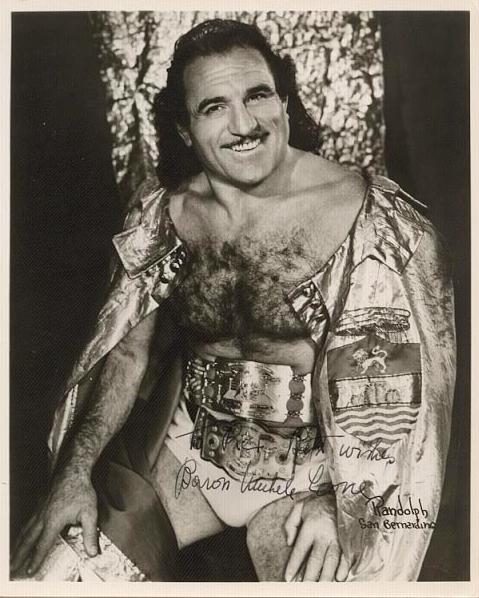 Michele Leone was born on June 8, 1909, to Giovanni and Anna Leone in Pettorano sul Gizio, (population 1,376 in the 2015 Census) which is a town along the Gizio River just south of Sulmona in the province of L'Aquila in the region of Abruzzo. Despite his parents' disapproval, he began wrestling at an early age under the tutelage of his uncle, Michele Leone, and became the town champion at age 14. He graduated from the local high school in 1927.
In 1933, he began to travel the European circuit. In early 1938, the 28-year-old Leone immigrated to New York City where he continued to wrestle. In June 1940, he relocated to Washington, D.C., and wrestled there too. When Italy declared war on the United States on December 8, 1941, he became an enemy alien and an instant "bad guy". He was viewed as such a bad guy that he was even booed in a match against a German wrestler named Hans Kampfer. Nevertheless, before a match with Duke Keomuka, an "evil" Japanese wrestler, he gave a speech which so impassioned the crowd that they bought $2,000 in U.S. war bonds. He also appeared at charity events to sell U.S. war bonds at the Navy Yard in Philadelphia. After World War II ended in August 1945, he started wrestling up and down the east coast and began to draw big crowds.
In October 1949, he moved to Los Angeles and adopted the nickname "Baron", portraying himself as an Italian aristocrat. The advent of television converted the journeyman into a super star. As he climbed the pro wrestling ladder, he defeated Italians Leo Garibaldi and Antonino Rocca before facing Mexican Enrique Torres for the World Heavy Weight Championship in the Olympic Auditorium on November 22, 1950, in front of 10,400 fans. The "Baron" pinned Torres in two out of the three falls to win the match and the world title. During his time as the champ, guest spots on TV shows raised his name recognition and appearances at department stores often drew more than a thousand fans. As an eligible bachelor, he attracted many women to whom he each gave an orchid and an autographed photo of himself.
On May 21, 1952, the 43-year-old Leone lost the title to Lou Thesz at the Gilmore Field in Hollywood. The match attracted more than 25,000 fans and was the first pro wrestling match to take in more than $100,000 at the gate. Four months later, on September 23, 1952, fellow Abruzzese Rocky Marciano won the World Heavy Weight Boxing Championship. In 1954, the "Baron" married Billie. They had no children. After losing his third rematch with Thesz in 1955, he retired at age 46. On May 17, 1963, the World Heavy Weight Wrestling Championship was won by another Abruzzese, Bruno Sammartino, who held it until April 30, 1977.
Since he had become independently wealthy because of his prize money, Leone bought an apartment building in Santa Monica which he moved into with his bride after retiring and where he lived quietly off his rental income and investments. While he was crossing a street near his home on November 14, 1988, he was struck by a speeding automobile and was taken to the nearby UCLA Medical Center. He died there from his injuries 12 days later. He was 79 years old.
In 2000, Billie Leone donated $100,000 in her husband's memory to the Santa Monica Historical Society Museum for construction of the museum at a new location. This donation was the same amount as the gate at Leone's last championship match. "Baron" Michele Leone was inducted into the Pro Wrestling Hall of Fame in 2019 during which he would have turned 110.
Sources, all accessed February 26, 2023:
Bruno Sammartino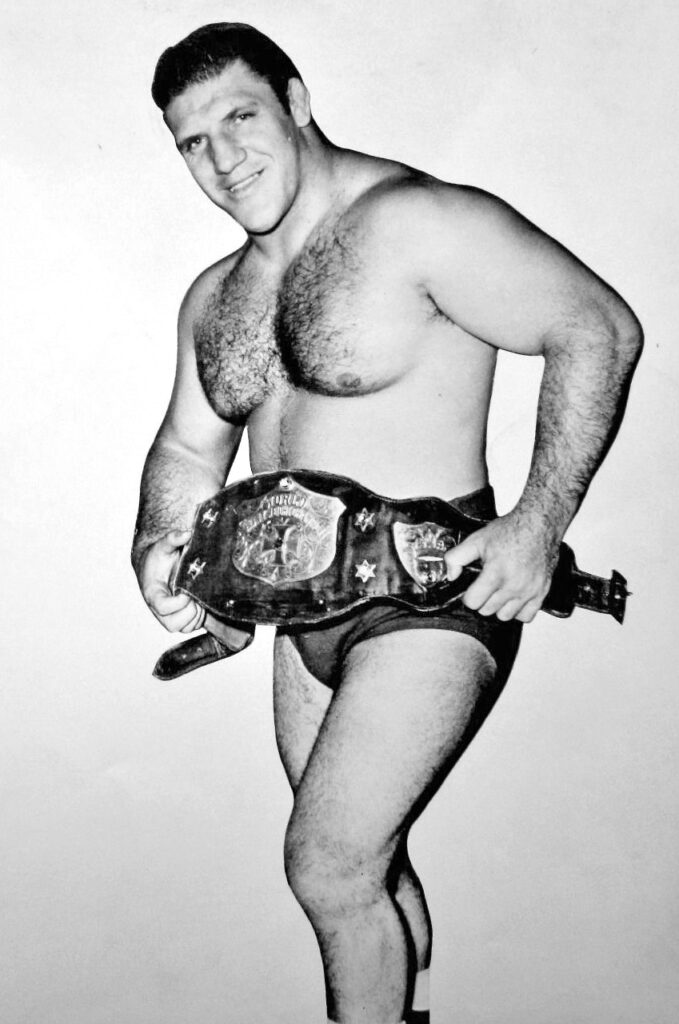 Bruno Leopoldo Francesco Sammartino was born on October 6, 1935, in the community of Pizzoferrato (population 1,163 in the 2004 Census), in the province of Chieti in the region of Abruzzo, Italy. He was the youngest of seven children born to Alfonso and Emilia Sammartino. After World War II started on September 1, 1939, his father fled Italy for Pittsburgh, Pennsylvania. When Italy switched sides and Germany invaded Italy in 1943, Emilia hid her seven children in a cave in a nearby mountain called Valla Rocca while she sneaked into the village at night for food and supplies. Before the war ended in Europe in May 1945, four of Bruno's six older siblings had died due to various causes. Finally, in 1950 when Bruno was 15, his father was able to send money for his wife and three surviving children to join him in Pittsburgh.
Upon arrival, Bruno spoke no English and was a 90-pound weakling due to the deprivations of the war years. Thus, he was an easy target for bullies at Schenley High School. To build himself up, he started lifting weights and wrestling. He graduated from high school in June 1953. After six more years of body building, he set a world record in early 1959 by bench pressing 565 pounds. He then married his wife Carol with whom he had three sons: David and twins Daniel and Darryl. Bruno's world record attracted the attention of Rudy Miller, a local professional wrestling promoter. Bruno made his pro debut in Pittsburgh on December 17, 1959, by pinning Dmitri Grabowski in 19 seconds. Bruno's first match in Madison Square Garden in New York City occurred on January 2, 1960, when he pinned "Bull" Curry in five minutes. In March 1962, Bruno made his Canadian debut in Toronto which had a large Italian population at that time.
On May 17, 1963, Bruno won the Heavy Weight Championship of the World Wide Wrestling Federation (WWWF) by pinning the reigning champion, "Nature Boy" Buddy Rogers, in 48 seconds. Bruno held the championship belt for seven years and eight months until January 18, 1971, when he lost to Ivan Koloff in Madison Square Garden. However, on December 10, 1973, Bruno regained the championship belt by defeating Stan Stasiak. His second title run lasted three years and almost five months until April 30, 1977, when Bruno lost to "Superstar" Billy Graham. He then became a color commentator for the syndicated programs of the World Wrestling Federation (WWF) which had replaced the WWWF.
In 1985 when Bruno was 50, his son David, who also had become a pro wrestler, convinced Bruno to join with him as a wrestling tag team. Bruno's final match occurred in Baltimore, Maryland, on August 29, 1987. Afterwards, Bruno became an outspoken critic of the WWF because it permitted the use of steroids. Then, while working as a color commentator for the Universal Wrestling Federation (UWF), he also occasionally acted as a referee.
On March 25, 2010, Bruno was honored with a Lifetime Achievement Award at the annual Dapper Dan Dinner in Pittsburgh. On April 6, 2013, in Madison Square Garden, he was inducted into the World Wrestling Entertainment (WWE) Hall of Fame. Bruno agreed to be inducted only because the WWE, which had replaced the WWF, banned the use of steroids. Six weeks later, May 17, 2013, was declared Bruno Sammartino Day in Pittsburgh. After two months in the hospital, he died on April 18, 2018, in Pittsburgh at age 82 due to multiple organ failure caused by heart problems. He remains the World Heavy Weight Wrestling Champion with the longest stint totaling eleven years and almost one month over two reigns.
Sources, all accessed July 27, 2020: