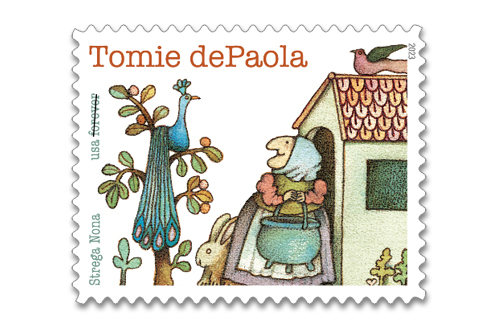 U.S. Postal Service Issues Stamp for Tomie dePaola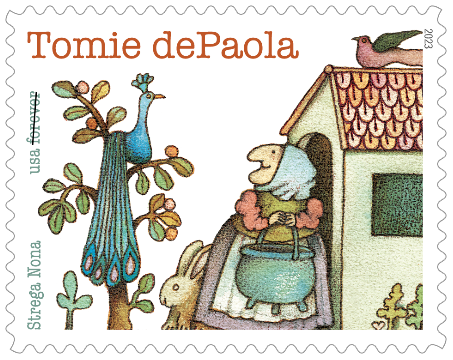 By Joseph "Sonny" Scafetta, Jr.
---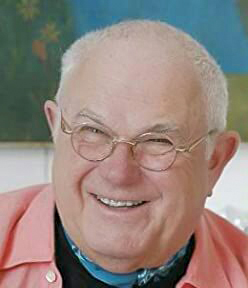 The U.S. Postal Service unveiled a "Forever" postage stamp to honor Tomie dePaola on May 5, 2023, in a first-day-of-issue ceremony inside the Currier Museum of Art in Manchester, N. H. The stamp went on sale nationwide on Saturday, May 6, 2023.
The stamp shows a detail from the cover of Strega Nona (Witch Grandmother), a Caldecott Honor Book published in 1975. Tomie dePaola was a prolific children's book author and illustrator whose body of work includes Italian folk tales and legends, informative books, religious and holiday stories, and autobiographical accounts.
Thomas Anthony dePaola was born in Meriden, Connecticut, on September 15, 1934. He was the son of Joseph dePaola and Florence May Downey dePaola. His paternal grandparents had emigrated from the region of Calabria. After earning a Bachelor of Fine Arts from the Pratt Institute in Brooklyn in 1956 and a Master of Fine Arts from the California College of Arts in 1969, he started his writing and illustrating career, working on more than 270 books, and selling more than 25 million copies worldwide. Most were translated into over 20 languages. Over the course of his 50-year career, he won numerous awards, most notably the prestigious Laura Ingalls Wilder Medal in 2011.
On March 23, 2020, he was injured in a fall inside his barn studio, underwent surgery, but died from complications on March 30, 2020, in a hospital in Lebanon, New Hampshire. He was 85.