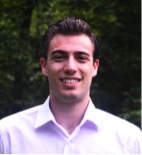 PRESENTING THE 2017 WINNERS OF THE AMHS/NIAF SCHOLARSHIPS
The Scholarship Committee is pleased to present this year's winners of the two joint AMHS/NIAF scholarships, awarded for the 2017-2018 academic year. The recipients are Benjamin Abeles, of Washington, D. C. and Gianluca Nigro, of Chatham, Massachusetts. The two winners are both excellent students who have strong ties to Italy, a keen interest in their Italian background, and a strong commitment to Italian studies.
The Scholarship Committee selected them this past Spring from a pool of other talented and worthy applicants. The winners will be honorary members of the Society for calendar year 2018, and they will be invited by the President, as our guest, to attend a meeting in 2018 at which they can address the membership and tell us of their studies, their heritage, and what our scholarship means to them. Congratulations to Benjamin and Gianluca!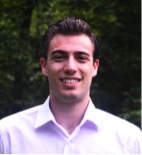 Benjamin Abeles is a junior at Cornell University, where he is double majoring in Italian and Government. His Italian background is on his father's side and traces to the region of Puglia. Mr. Abeles has a strong interest in political science and Italian language, literature, and culture. He has his sights set on a career in the Foreign Service.
Dear Abruzzo and Molise Heritage Society,
I am writing to thank you for your generous contribution to my studies at Cornell University. Through my education, I have become a beaming Italian-American, and I would like to express my utmost gratitude not just for your support of my studies, but your commitment to the promotion of Italian culture and values in the United States.
When I first stepped foot in Viterbo as a senior in high school, I strove to rediscover my Italian heritage. Little did I realize the impact that an academic year in a small, Lazio town could have on my future. Ever so slowly, I learned to speak Italian, and many of the beautiful intricacies of the Viterbese dialect. Eventually, I was able to read an entire novel by Italo Calvino. When it was time to return to the United States, I had not only developed a firm grasp of Italian language and culture, but an abiding relationship with my host family and Viterbo.
Four years later, my relationship with Italy, its culture, and language is more profound thatn I could have imagined when I arrived as an 18 year old. Last summer, as an intern at the American Consulate General in Milan, I witnessed firsthand the special diplomatic relationship between the United States and Italy. Now, as I enter my senior year at Cornell, I prepare to write my honors thesis in Italian Studies.
I am honored to be recognized by the Abruzzo and Molise Heritage Society and the NIAF, and I look forward to a relationship of promoting Italian culture alongside your organizations.
Cordiali saluti,
Ben Abeles

Gianluca Nigro is a sophomore at George Washington University. He is a Political Science major, with minors in Italian and History. His Italian roots run through Campania on his father's side, while Molise is the region of his mother's background. Mr. Nigro's interests include politics, Government affairs, and Italian culture and language. His future aspirations look toward a career in public service.
Dear Abruzzo Molise Heritage Society,
I want to convey my sincerest gratitude for the extremely generous scholarship which you so kindly awarded me. I was hopeful during the application process that my passion to express my Italian roots would be recognized, and that my endeavor to make my family and other Italian­ Americans proud would come to fruition. Having been born in Italy to an Italian-born father, Italian mother, and four Italian-born grandparents has driven me to embrace my heritage in my daily routine, my studies, and my aspirations.
For my grandfather Peppino Sceppa of Campobasso, who is no longer with us and cannot celebrate this achievement with me, this award is extremely special. Just thinking about how proud he would be if he were here today instils in me the drive to continue to make my family and my two countries proud. It is for him, my parents, my sister, and all of my relatives and Italians and Americans that I work so hard for.
To be able to say that I am a NIAF scholarship recipient not only makes me proud to be an Italian American, but it also goes an extremely long way in aiding the struggle of high tuition costs associated with college today. In a couple years' time, I will have graduated with an Italian Language and Literature minor from The George Washington University, an accolade which I would feel unfulfilled without.
For me, the opportunity to say that I graduated with a focus in Italian language and in Italian literature is important for a couple of reasons. Not only will these four years of concentration in Italian language and literature be remembered by me for the way that they expanded my knowledge of Italy, but also for the fact that I will be able to proudly look back on my college years and say that I devoted a large portion of my studies to the language and literature of a nation which is the very fabric of my being.
While not entirely fluent in the Italian language yet, this very generous scholarship will go a long way in helping me continue learning from some of the best Italian professors in the country. For this, I thank you, as my lack of fluency in the Italian language is the only barrier that stands between my culture and me. I cannot express enough how proud I am to know that I am receiving help from a society with the same roots as mine; for my whole life, I have always known that Italians stick together, and this scholarship is another example of that.
One day, I hope to give back not only to the Abruzzo Molise Heritage Society and to NIAF, but to Italians worldwide. My combined studies in political science, Italian, and history will allow me to excel throughout my career path and one day return the favor to those Italians who have gone to great lengths for me. The political atmosphere today may be tense, but I know that someday, my studies, roots, and cultural tendencies will succeed as the instrumental drivers needed to supply me with the skills to surpass rhetoric and hate and to find a way to do good for the world and for Italians.
With that, I want to extend that if there is absolutely anything I can do to contribute or to help your society, I would be honored to give all that I can. I am honored for this and I am humbled; you have helped me make my loved ones proud. I thank you emphatically.
Sincerely,
Gianluca Nigro