Have you been promising yourself that you will hunker down in a quiet (not too quiet) village to improve your Italian?
Taking one or two weeks to brush up or even get started on speaking Italian makes perfect sense, doesn't it? A program in charming Agnone in Molise allows you to study hard and take a holiday at the same time. Jenifer Landor and Alessandro Aucelli say it all in the name – Live and Learn Italian. They are a local, independent business whose aim is for a small number of students to integrate themselves into the fabric of the town, to experience the local customs, and engage in the crafts – as a welcomed friend!  Sounds like paradise!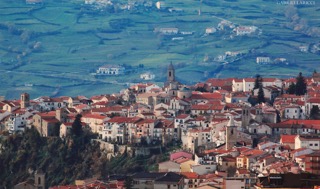 AMHS members met one of the founders a few months ago and we were smitten with her and her program. get to know about Live and Learn Italian in Molise on their website and in our interview with Jenifer below. Then make a resolution to give yourself this experience.
What makes Live and Learn Italian different from a typical language school?
We are so different from a standard language school – with never more than 12 guests at a time, the emphasis is on integrating everyone into the community during their stay. We do offer classes (3 hours daily + homework!), yes – but the focus is on practicing the language, and the rest of the time we join in community events, visit the local artisans and their workshops, or cook and share meals with local families. These activities, and so many others, are all in Italian because the community is not English speaking at all – and our guests really do get to feel part of it, and that they are living in an authentic town – come and discover your inner Italian!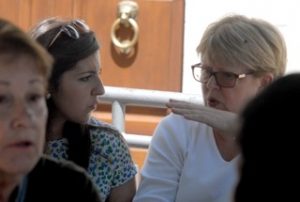 How can a week or two of study also be a holiday? 
Well, it's a learning holiday – no doubt about that. Talks and visits include hearing about the cultural history of the region, and learning a language does take some effort. But combine that with enjoying exceptional produce, visiting family restaurants, local festivals and events, getting out into the incredible nature of the region and relaxing over meals and drinks with a small group of like minded individuals – and everyone, without exception, has a very fulfilling holiday.
How many years has L&L been in business and what are its origins?
2017 will be our 5th season. I came here to stay with cousins and learn Italian myself, and discovered a unique opportunity – a community that does not speak English and is protector of ancient traditions and world-class artisans. The idea came to me to share this with a few others – to give learners of the language an environment in which they can engage with anyone and everyone! We are mindful of the great gift we have in working with an authentic community, off the beaten track, and we play a small part in keeping aspects of this ancient culture and its traditions alive, without in any way compromising the authenticity. We encourage our guests to explore, learn, and discover while respecting, protecting and valuing the modest way of life of the region. Working directly with many local families, individuals, and businesses, we are not only providing valued income, but an opportunity to tell their stories, and share their crafts and produce.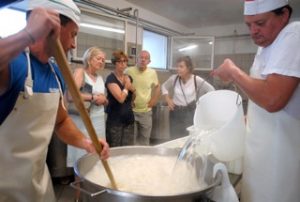 Typically, who comes to Molise to study with L&L?
Most of our guests are 50+, professionals who have been learning Italian for some time or who have started later in life. Some are recently retired – active people, learning for family reasons, or because they love Italy and the culture and language, and want to be able to converse when they travel. Many are lovers of music, art and architecture, and occasionally we get literature lovers keen to read Dante in the original! We also get second and third generation Italians who are discovering the language of their ancestors.
We here at AMHS fully endorse this learning holiday. A few of us are making the trip in July!  
www.liveandlearnitalian.com