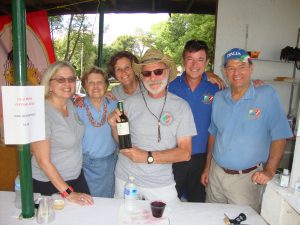 The Abruzzo and Molise Heritage Society of the Washington, D.C. Area was established in June 2000 by a small group of Abruzzesi and Molisani (natives and descendants of immigrants) who eventually settled in the Washington D.C. area.
Although the community of Italians and Italian-Americans in the Washington D.C. area is rather modest, it has a relatively large number of Abruzzesi and Molisani who recognized the need to foster the cultural heritage of these two regions (and Italy).
The Society welcomes anyone to join us who has an interest in preserving and sharing in the rich traditions and values that are unique to Abruzzo, Molise, and Italy.
LATEST POSTS
Discovering Renaissance Ceramics in Abruzzo - Written by Carma Fountleroy with photographs courtesy of Nancy Coviello. In October, Maestro Roberto Paolinelli arranged for his ceramic students from Casa Italiana Language School in Washington DC, to experience the best field trip imaginable. For more than a decade, Maestro Roberto has been teaching Italian Renaissance Castelli-style ceramic painting at Casa Italiana.  For a . . . read more
New Ways to Visit Abruzzo & Molise - Maybe you haven't been back to "Abruzzi" for decades. Perhaps your grandchildren have never seen their ancestral towns. Have you traveled to the hill towns in Tuscany but didn't quite know what to do in the cliff hanging villages in Abruzzo or where to find remote castles in Molise? Now is the time to connect . . . read more
The Legacy of AMHS Member Joe Grano - On Saturday, June 20, 2015, around 40 people gathered at Casa Italiana for the unveiling of the painting of Constantino Brumidi, in memory of Joe Grano.  Joe was a member and an officer of AMHS until his death on November 24, 2013.  As President of the Society, I was quite honored that Father Marchetto asked . . . read more
WITH THANKS TO ROMEO SABATINI AND RYAN TURNER
The Society dedicates its new website to Romeo Sabatini, who worked tirelessly for over 10 years developing and maintaining our original site; and to Ryan A. Turner who, in honor of his grandmother Rosemarie Antonelli Turner (whose father Frank emigrated from Abruzzo), gifted the Society with funds to develop this new site. The Society is grateful for Romeo's time and Ryan's generosity which bridges the past with the future for the benefit of all AMHS members and friends.